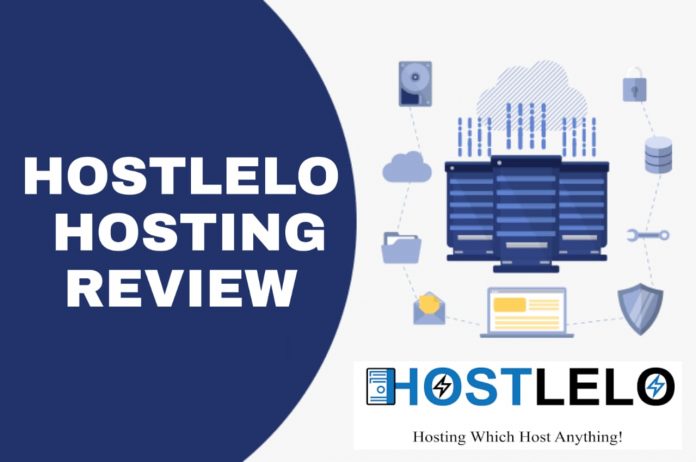 After a lot of days, Digital Guruji is here with a very important post for you. If you have not yet used WordPress or your blog is Blogger, then there will be an important post for you. In this post, Digital Guruji is going to tell you about such hosting which provides hosting at the cheapest cost in India. If you want to make your site on WordPress at a lower cost then a better option than this hosting will not be for you. In this post, we will review this hosting and give you a good discount.
Hostlelo Hosting Full Review 2020
Blogger and WordPress are both the most popular platforms for creating blogs. But right now the popularity of Blogger and wordpress is increasing. Whose blog was in Blogger, they have started sifting their blog to WordPress. The reason for this is that WordPress has a lot of futures compared to Blogger, which allows the user to have full control easily. Blogger is absolutely free and WordPress will cost money for hosting.
Many people are getting sifted from blogger to wordpress after purchasing Hosting. Some people are short of money due to which they are unable to take hosting. If you have the same problem then do not take tension now. If we are going to introduce you to such a hosting company, then hosting will provide you at a cheap price. In this, you will find many futures that you can easily manage.
We are talking about Hostlelo.in, Founded in 2017, is an Indian web hosting company and has its head office in Mumbai. There are many services in this company. Such as Domain name registration, Linux Shared Hosting, Windows Shared Hosting, Dedicated Server, Reseller Web Hosting, and Virtual Private Servers (VPS). There was no more day making this company, but its popularity is increasing day by day. 60% of Hindi bloggers create their own wordpress site by hosting it.
In Hostlelo, you will get 24/7 support and you can get any issue fixed by calling its team directly. Its servers are located in New York, United States. Its website and customer support are available in English.
Now let me tell you that if you want to make your site on WordPress, then this is the best option for you. It can handle 20000 / day visits. Its uptime is 99% and all other big hosting has so much downtime. There are many types of plans in this and the price of all is also different. You can choose the plan according to your need. If you are new, then I would recommend you for Shared hosting. You will get it at the cheapest price.
After taking hosting on this, you will get cPanel, so that you will be able to manage your hosting easily. Along with this you will get SSL certificate (https: //) free in every plan. If you have any problem within 30 days, then you will get 30 day money back guarantee, so that you can refund the money within 30 days.
It also has another great feature. That is, if your site is already on a hosting, then you can migrate for free on its hosting. For this, you have to take hosting and submit a request to migrate, after that your site will be moved to new hosting within 30 minutes.
Also Read:
Plans and Features:
If you want to know its plans, then you see screenshot below. Here the shared hosting plans, price and its features are explained.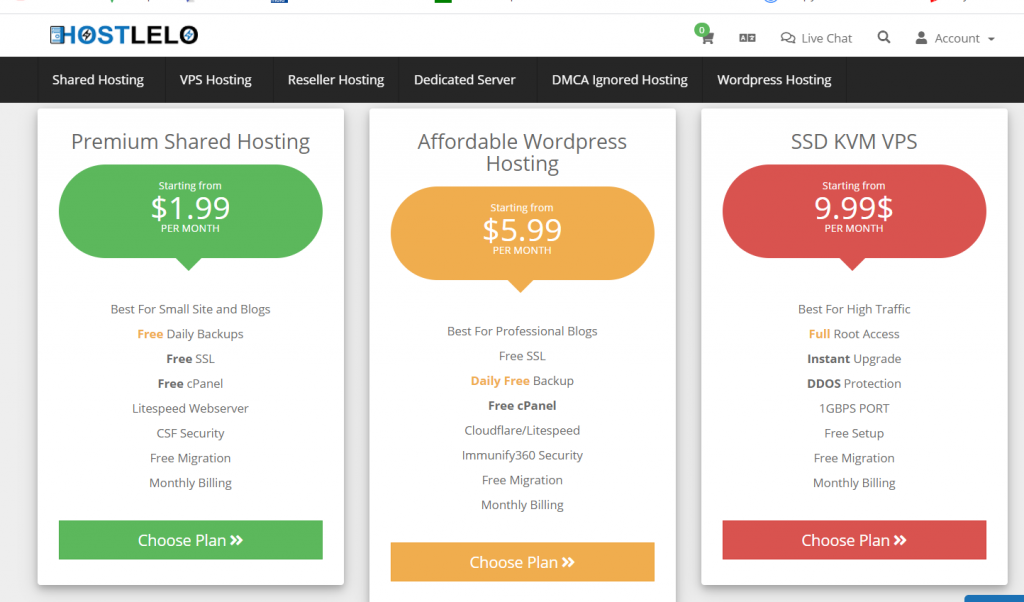 Hostlelo web Hosting Company offers three categories of shared hosting: regular web hosting, WordPress hosting, and DMCA ignored hosting. If you plan on hosting plagiarized or warez content, you can take the DMCA ignored hosting. WordPress websites should obviously go for WordPress hosting and other simple websites on regular web hosting.
Shared hosting customers of Hostlelo get the following benefits:
99.95% Uptime
Daily automatic backups
Free SSL
Up to unlimited addon domains
Anywhere from 10GB to unlimited SSD
From 100GB to unlimited bandwidth
Hostlelo web Hosting Company supports its users with the necessary tools such as MySQL databases and PHPMyAdmin for the management of those databases. It supports PHP on its shared servers, but if you use Python for programming, you'll have to look elsewhere because this web hosting company doesn't support it.
If you need to do repetitive tasks like regular backups, you don't have to keep on logging into your server every day. Hostlelo supports cron on all plans. You can create cron jobs to automate managing the tasks.
Hostlelo has a software installer that beginners can use to install applications such as WordPress and Joomla! in one or two clicks. Another advantage of the software installer is that you can set when you want it to take backups or update your installed applications and it's add-ons like themes and extensions/plugins.
Get 45% Discount on Hostlelo:
DIGITALGURUJI

If you buy hosting in Hostlelo now, we can get you a 45% discount. You can pay through Net Banking, debit card, or Paytm.
First, you visit Hostlelo's site and buy any hosting plan and validate it by entering the discount code given below in the shopping cart page.
So, friends, I hope you will enjoy using this hosting and you will not have any problem. Let me tell you an important thing that if you do not get 45% discount from the discount code mentioned above, then comment. I will give you a new discount code so that you can get a discount.
Pricing and Support
Hostlelo offers four shared hosting plans under Premium web hosting and WordPress hosting. The two categories are similar given that they offer the same features and resources, but the pricing differs.
There's no free trial, but there is a money-back guarantee, though, there's a bit of contradictory information here. The vendor advertises a 30-day money-back guarantee but when I checked with customer support, I was told that the money-back guarantee is only valid for seven days. That's not a lot of time.
So, friends, I hope you will enjoy using this hosting and you will not have any problem. Let me tell you an important thing that if you do not get a 45% discount from the discount code mentioned above, then comment. I will give you a new discount code so that you can get a discount.
I hope you liked this post. If you have any problem with buying hosting, you can contact HostLelo's technical support through live chat, phone, email, and ticket. Its support agents work 24/7. I used the live chat and chatted with an agent who answered all of my questions. You can also Contact with owner of Hostlelo web Hosting Company on Facebook.
Share this post "Best and Cheapest Web Hosting Company in India – Hostlelo.in" with your friends on social media.