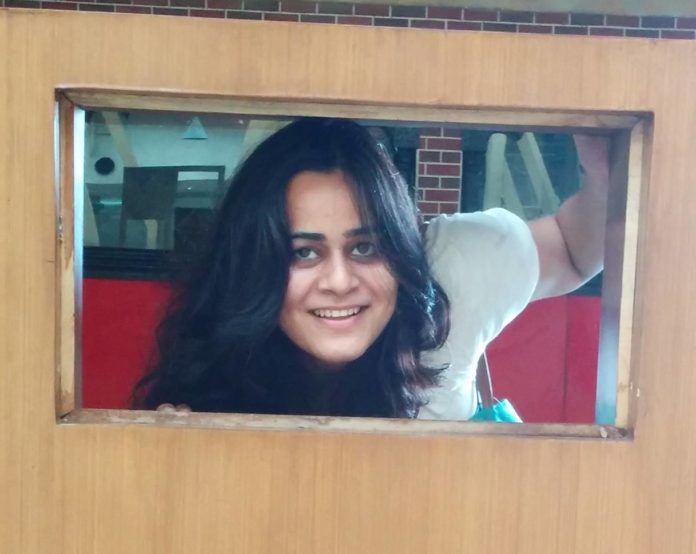 Abhilasha Tiwari is the owner of Treacle Tales. Treacle Tales is about Life and tales revolving around it. Food, Travel, and lifestyle, all that matters to life and existence!
Abhilasha has been working as a Mental health awareness activist who has a keen interest in food and blogging. She started this journey with gagism in 2012-13 when it was acquired by an Australian gentleman. She was their page manager. Since then she has worked as a Virtual assistant and writer. A few years back she started working on PetsLyf. PetsLyf is one of the biggest communities of pet lovers in India with more than 6 lakh followers.
Abhilasha Tiwari Interview
Digital Guruji : Hi!! Will you please introduce yourself to our readers?
Abhilasha Tiwari : Hello, I am Abhilasha Tiwari, owner of Treacle Tales. I belong to a progressive town Moradabad. A few years back I shifted to Gurgaon to study creative writing at the British Council, nowadays I am in Bangalore. I had Studied Programming language at Aptech Ltd, New Delhi, India.
My grandfather was a single parent, in his youth, he couldn't spend much time with my Aunt and father. Since I was the firstborn, he doted upon me. My childhood was filled with stories and food in the classic era. Moradabadi cuisine is distinct, it still carries a traditional approach. We serve moong daal chaat with jalebi.  The flavors, the fragrance, and the formula (serving) can only be cherished in the city.
I am a private person, I let my work speak for myself. 
Digital Guruji : Why did you think of starting Treacle Tales?
Abhilasha Tiwari : After the demise of my grandfather, I wanted to keep his legacy alive, which led me to create a Facebook group "Treacle Tales". Treacle was basically the first universal medicine known to mankind, and it also means jaggery. With the help of my group, I encourage people to share stories related to their food, travel, and lifestyle.
I have always had a keen interest in psychology and human behavior. I have noticed people miss the feeling of belongingness. Sharing stories along with their food gives them the comfort of the virtual dining experience. Where you talk to your buddies, share your worries, accomplishments, and create memories. 
Digital Guruji : How did you come up with the name "Treacle Tales"?
Abhilasha Tiwari : My grandfather belonged to a zamindar family. He left all that to his paternal cousin when he got a government job. However, he would often visit his village. And after coming back he would tell us stories of his childhood. One of his favorite narratives was his time with his cousin when they would snack on Milk cream with Molasses (treacle).
I have a faint memory of eating treacle, which he brought for us. I wanted to incorporate his stories and sweet memories in a name. 
I have trademarked Treacle Tales to honor his legacy.
---
Also Read:
---
Digital Guruji : What does Treacle Tales do?
Abhilasha Tiwari : We are documenting the long lost recipes, and lesser-known places in India and abroad. We are creating a memoir of recipes in their original form. I am also collecting historical information about the places and folktales that make them unique. We are working on safekeeping the stories and memories related to food and travel. 
Digital Guruji : What is your USP, which makes it unique & different from other start-ups in similar domains?
Abhilasha Tiwari : I don't have any USP because we are not selling anything. I am rather creating a group of people who like to share their stories with others. I am creating a tribe of people who believe in being courteous, respectful, and compassionate towards others, something we are forgetting day by day. 
Digital Guruji : What were the challenges that you faced at starting and how did you overcome it?
Abhilasha Tiwari : I have been put down many times for my ideology. My belief. Thankfully I have had so much support from people, sometimes even the strangers have helped me. You have helped me strengthen the community. Initially, I didn't know anyone to start a group, Gagan, Pawan and Rachit helped me by adding their friends. I am poor with boundaries, Rajesh Sir helped me in keeping the group disciplined. Shejal, Farheen, Ali helped me in creating content. Kundan, Aayush, and Aakash help me with moderation. 
I haven't given it to the community, but the community has given it to me. I would like to extend this good vibes to every member of our group. 
Digital Guruji : Tell us about the people who impacted your journey.
Abhilasha Tiwari : Everyone I have met in my life is a part of this. Their stories, their memories. 
Digital Guruji : Which incident has stayed with you from your journey with Treacle Tales?
Abhilasha Tiwari : Recently, Jai posted a picture of Balushahi made by his mother. His writeup made me emotional to the core. Balushahi is a sweet served as a tea time snack in Moradabad. People are reinventing their food habits and turning back to their roots. It is the beginning of a new era. I have started working on my website and youtube channel now, they will be live soon. 
Digital Guruji : What kind of culture exists in Treacle Tales, and how did you establish it?
Abhilasha Tiwari : We have a very family-like environment in the group. My major concern was language. So, I made a rule, members must be courteous towards each other. It has helped us to forge a stronger bond with each other. Baki sabko Gupshup marna bahaut pasand, toh aapko pura time sab baatein Karte Mil Jayenge.
I didn't establish anything, it the love of the members that keep it alive. 
Digital Guruji : How far do you think you've come since Treacle Tales was first established?
Abhilasha Tiwari : We have come a long way and a long way to go. I have registered a company (Vitalite Media) to help others manage their communities on Social Media. Treacle Tales has helped me understand my potential. 
Digital Guruji : What inspires you?
Abhilasha Tiwari : The bottom is to be crowded but there is always a place at the top.
Digital Guruji : What is the biggest misconception that you think people have about you?
Abhilasha Tiwari : People often mistake my shyness for rudeness.
---
Also Read:
---
Digital Guruji : What are your ideals / Principals?
Abhilasha Tiwari : Be discreet with your kindness. I am a humanitarian, atheist, it is important for me to be respectful, compassionate, and kind. 
Digital Guruji : What next? What are your future goals? 
Abhilasha Tiwari : I am working on a few projects alongside Treacle Tales to help the community in all possible ways. We are coming up with Fitness and Fiction related ventures. I am already working on PetsLyf, creating awareness campaigns for stray animals. 
Digital Guruji : What advice would you like to give our young readers?
Abhilasha Tiwari : It's the possibility of having a dream come true that makes life interesting. All your dreams can come true if your intentions are right. 
Digital Guruji wishes Abhilasha Tiwari, Founder of Treacle Tales, success in all her future endeavors. Here ends the interview with Abhilasha Tiwari.