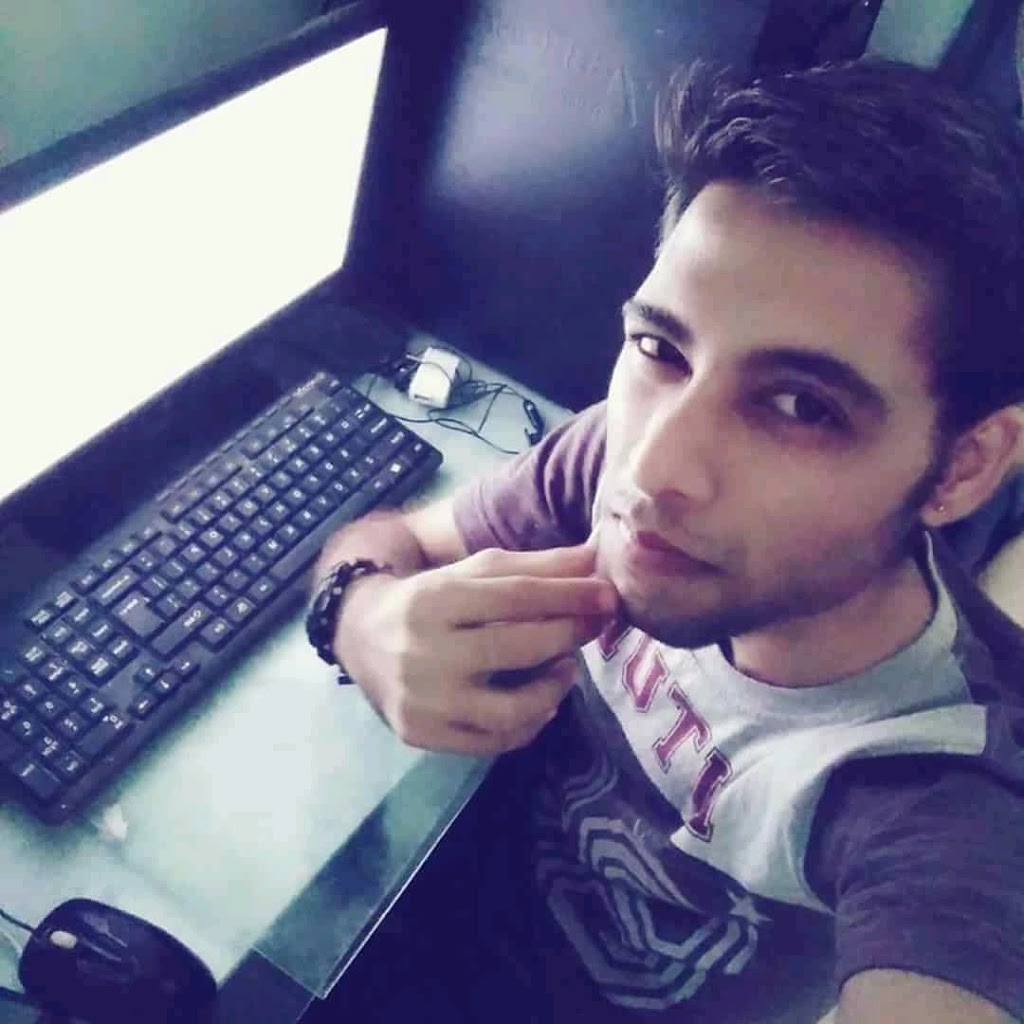 DGTalk Professional Interview with Hitesh Parjapati – Digitalgurujii.com

Digital Guruji will talk today about Hitesh Parjapati, a well known name in field of website development and Digital Marketing.

Ir-respective of his Income he is well known for his kind-hearted behaviour.

According to Hitesh Parjapati he came into pageworld eventually in December 2016, he was not aware about anything and no one help him in any manner, he learnt everything with his research.

In starting of his career in facebook marketing he got trapped into wrong groups.

"Mujhe aisa kuch pata nahi tha ki Pageworld jesi bhi koi chiz hoti hai.
Tab me wo bewakoofo wale groups me hota tha 
Wo saare abusers wale group jese 
SZ,SHAITAAN falana dhinkaana na jaane kya kya naam.
To unme bas timepass karta tha me."

Due to his destiny, one day he saw a post in group, in which a person asked to vote him and in exchange he offered 10 rs per post. It was turning point of his Life.

In greed of 10 Rs he messaged that person for details. That person sended group link to hitesh and asked him to join groupIn that course of time Hitesh was not even having a  good phone neither wifi , mobile data recharges were too costly also as comparion to current time.

So For small recharges, he thought to make 10-12 Fake ids and started voting people in group.

But before he would be able to make more IDs, work of voting was OVER, and his Join Request was also Pending.
Also Read:

After few weeks his request was approved. On some day in February 2017 he saw a notification "adsense for sell,etc". 

As he was new, it look very awkward to him. Instead of asking anyone regarding this post he used Google Baba to find meaning of "ADSENSE".Similarly he used google for everything, he was unable to understand and he started learning something everday.
Hitesh Parjapati with his friend
"9th STD me ek subject hua krta tha ICT (INFORMATION COMMUNICATION TECHNOLOGY) jisme Blogger ke baare me likha gaya tha ki Blog kese banta hai.

or us chapter ke end me likha tha ki 
Blog banana asaan hai par manage har koi nahi kar paata isey."

He tried  to accept every challenge in blogging . He started copy-paste of articles in 2015 as a learner during his 9th class due to subject ICT. Later on when his interest started in blogging he took  IT (INFORMATION TECHNOLOGY) as is subject in 11th and 12th.


"Or meri naseeb itni acchi rahi ki mere paas 11th me pc na hote hue bhi poore class me is subject me sabse zyada score kiya
But afsos maths me 100 me se mere 3 marks aaye the.
Aise hi or bhi subjects ke saath hua.
Biology me 15 100 me se
Physics me 100 me 8.
To me studies me sirf 10th tak accha tha 
Jab tak mere haath ye chize nahi lagi thi tab tak"


He donot want to blame this technology for his failure in 11th and 12th. But he is happy that he hasd earned lot of money in a very small age.


"To girte girte bachkar mene 11th pass kar liya or fir mene pc le liya.
Kuch months baad wifi bhi.
Fir mene professionally apna kaam start kiya or dheere dheere saari chize badhaata gaya apne knowldge ki…"

when he was in 12th, he met up with an accident, due to that doctor consulated him to take bed rest for 3 months.
Due to all this, his studies were affected a lot and he got failed in 12th.
"Fir mujhe laga ki yaar Studies se kuch hoga nahi.

Kya hai ki agar ham kisi chiz me piche gir jaaye to bahaane banne lagte hai dimaag me

Example:- Angur Khatte hai 😂
Kahavat suni hi hogi aapne.."

Due to Failure in 12th, negative thoughts started coming in his mind, and he started blaming indian education system. 
"Yaha wo OBC,ST,SC wale system hai or apna kuch hone nahi wala (Jabki Mumbai me aisi systems to kahi maante hi nahi the lol) 

Bas bahaane the dimaag me mere ye saare."

Then he started work on PC again. His day got started at 7 am and last long till 2-3pm.
Also Read:
"Bas baaki logo ki Office,BMW,AUDI,Mercides dekh ke mujhe bhi feel hota hai ki 


Kaash ek din meri bhi Lamborghini to nahi par Meri Buggatti shor machaegi"




Birthday – November 10, 1998
School – St. Francis D'Assisi High School 
Income Source – UC News, Adsense
Now Let Digital guruji Ask him some tricky Questions. Here we begin – 


Digital Guruji: Hitesh What will you Suggest to Newbies in Blogging like us?


Hitesh : Digital Guruji Aisa hai ki noobs ko me sirf itna suggestion dunga ki 

"Mitro padhaai me agar acche ho to studies chhodkar is field me aane ki zarurat nahi hai aapko.

Agar blogging aapka passion hai to aankh band karke apne passion ko follow karo.
Agar aap paise dekhoge to shayad mushkil hogi.

Kyuki agar khet me bhi beej daaloge to usey ugne me bhi time lagta hai.
Usi tarah yaha mehnat karke bhi kuch time baad hi kamaai hoti hai..
Kabhi kabhi nahi bhi hoti.

Yaha bohot se logo ko dekha hai mene jo 
Laakho Invest karke 0rs par hai.

Or unhe bhi dekha hu jo 0rs invest krke Laakho me kama rhe hai.
_
To bas itna sa suggestion hai mera ki aap agar studies me acche ho to yaha mat aao.

Or agar Web ki acchi knowledge hai to aa jao is field me


Tumhare paas joh hai
tumhare hisaab se kam hai …
lekin kisi doosre ke nazar se dekho …
toh tumhare paas bahut kuch hai


Digital Guruji : Please Tell something about your Love Life, people often call you as love guru!

Hitesh: Love Life kya poori Love ki to Kitaab likh do mere upar.

6-7 gfs reh chuki hai meri past me
10th me tha meri pehli gf bni thi 
Zabardasti piche padi hui thi.

Usse breakup hua fir dusri ban gayi turant.
Usse breakup hua fir teesri bani Gujarat ki.
Usse breakup hua fir Mexican gf bana liya 
Usse breakup hua fir NRI gf bani meri 
Mauritius ki.

Or ek gf thi College ki.

Anyways digital guruji me un sabke baare me zyada nahi kehna chahta.
But ab jo meri gf hai uske saath bohot khush hu 

or aap sabse bas itni vinanti karta hu ki aap
sabka aashirwaad rahe mujhpar or meri usse shaadi ho

Or me aap sabko Invitations bhej saku



digitalgurujii.com


Digital Guruji : Hitesh our blessings are always with you. when will you marry Harshita Mehta?


Hitesh: kuch fix nahi kab hogi par expect krta hu kuch 2-3 years me


Digital Guruji :According to you what changes should be made in indian constitution for betterment of india?


Hitesh: Yaar Politics badi kutti kamini si chiz hai.

Mera to kehna bas itna hai is topic me ki 

jo acche kaam kar rhe hai atleast unhe appreciate kare opposition party na ki Aalu se Sona banani ki baate karke khud ka mazaak udwaaye.

Padhe likhe logo ko Politics me jagah milni chahiye kyuki unhe iski smjh hoti hai ki India me kis chiz ki kami hai.

Na ki gavaaro ko jagah deni chahiye jo "Bhakk budbak" bolke Gaay Bhais ka saara khana bhi hazam kar jaaye.

Digital guruji Janwaro ka khaana tak nhi chhodte..
insaano ko kya chhodenge


Digital Guruji :Any suggestions for Digital Guruji for improving its interview quality?

Hitesh: Digital Guruji ko to me bas itna kehna chahunga ki

 jese abhi ham chote logo ki interview le kar aap sabko Motivations de rhe hai to 

kal aapko success mile or aap bade logo ke interviews bhi le sako future me

Thanks Hitesh For spending your Precious time with Digital Guruji, we believe that people will Like Our conversation with you and will get to learn something new from you.
Thanks a Lot to everyone for reading Digital Guruji Interview with Hitesh Parjapati. 
Please comment your valuable suggestions regarding this interview, so that we can improve our standard.
If anyone Like to get their interview published on DigitalGurujii.com that can directly comment or message us.