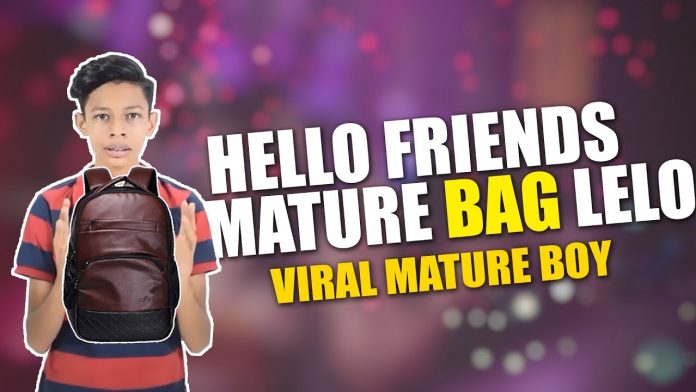 Interview with MATURE BAG WALA LADKA
Now-a-days it does not take much time for something to go viral on social media. We love random viral trends and we don't really bother with explaining our obsessions and that's the beauty of meme culture in India. In May, Twitter was trending with #JCBKiKhudayi memes just because some video of JCB excavation tractor had a million views on YouTube. The video showed the JCB excavator digging up dirt. After #JCBKiKhudayi, 'Mature Bag' memes is viral over the internet.
Currently The #maturebag has taken the internet by storm. Few days ago, a video went viral on social media where a young guy explained how to look attractive in college.
In the video, Mature bag Wala ladka told how your college bag plays an imp. role in making you stylish, how it can help one look "attractive". According to the guy, mature bad can play a crucial role in winning you brownie points.
As per Mature Bag Wala Ladka, one should not continue to carry the same bag to college that they used in school. One should opt for a "mature bag" to look cool. He even recommends a brown leather bag that is available on Amazon. Many people have flooded the review section of the product on Amazon.
The video by Vaibhav vora, which has been viewed more than 76,000 times on Twitter, quickly caught the attention of netizens. Many took to Twitter to share hilarious memes inspired by the video.
Viral Mature Boy – Vaibhav Vora
Even Mumbai Police used the meme to spread an awareness message. The meme not only explains that the "mature bag" is attractive, sporty, versatile and stylish but also says that if people find it lying unattended, they should report it.
Nothing makes a person more attractive than his/her alertness towards keeping the city safe. #Dial100 pic.twitter.com/H8SLgSBj6V

— Mumbai Police (@MumbaiPolice) July 12, 2019
"Nothing makes a person more attractive than his/her alertness towards keeping the city safe," Mumbai Police tweeted.
Dear travellers, please do not forget your bags or other valuables behind. Be careful about your belongings while travelling. #maturebag #SafetyFirst pic.twitter.com/PzElWck0Al

— Western Railway (@WesternRly) July 12, 2019
Western Railways also joined the meme game, "Be careful about your belongings while travelling."
Interview with Fashion Expert Vaibhav Vora
Who is the mature boy, you ask?
Well, he's the internet's new fashion guru. Vaibhav Vora introduces himself as a fashion expert and goes by 'style centric' on YouTube and his video on picking a bag for college is currently viral. He put it up on TikTok and within hours, netizens were on it.
He described textured leather bags as the most attractive, stylish and sporty choice and it guarantees a grown-up vibe.
Vaibhav Vora – the creator of the 'Mature Bag' concept is a 17-year-old who hails from Gujarat. He is a TikTok user who posts videos on various topics like how to stand out in college, how to have a good hairstyle, how to get glowing skin and so on.
Vaibhav Vora is currently pursuing Diploma Engineering in Mechatronics. He takes his academics quite seriously but also intends to continue making videos that add value to the viewer's life.
In our latest conversation, he revealed how he plans on taking his content to the next level and lots more. Check out this Exclusive interview of Vaibhav Vora:
Digital Guruji : Vaibhav Vora, How did you get the idea of Mature Bag?
Vaibhav Vora : "Just popped into my head". Actually the thing is that my videos are not scripted whatever comes in my mind i speak in front of camera so that's how it happened.
Digital Guruji : What are your Future Goals?
Vaibhav Vora : Basically i want to get more audience, to add value to other people's lives and to be seen as a good guy rather than a joke.
Digital Guruji : How your relatives and close friends sees your Popularity over Internet?
Vaibhav Vora : In starting, they said to stop it because people made fun of me but now they are supportive and help me.
Digital Guruji : How your day-to-day life got changed after you got popular as #MatureBagValaLadka ?
Vaibhav Vora : I have to do more stuff, record vidoes and edit everyday, also have to be more active on social media platforms. That's all and people started recognizing me.
Digital Guruji : What's about your Studies?
Vaibhav Vora : I am doing Diploma in Mechatronics after 10th. I am in 2nd year now. I am still figuring to manage my time.
Digital Guruji : Who is your Role Model?
Vaibhav Vora : I have a lot of role models, mostly i follow Mayank Bhattacharya, allahbadia, and Alex Costa. They all teach lifestyle and they are best in their field so i like them.
Digital Guruji : What's your daily routine?
Vaibhav Vora : Usually I wake up at 5:30 am, hitting the gym and reading book with breakfast i get ready for college. Coming back at 4 or 5 pm. I utilise my spare time to shoot videos, and editing. On weekends i hangout with my friends. I takes at least 6 hours sleep daily.
Digital Guruji : What are your favorite things?
Vaibhav Vora : To shop new clothes, new shoes and stuff also to make videos.
Digital Guruji : Any success mantras for our readers?
Vaibhav Vora : Just keep doing what you are doing the world is full of criticism and hatred but you will get supporters sooner or later just don't quit.
Digital Guruji : Most Importantly, Does mature bag company gave you some profits?
Vaibhav Vora : They give me some profit and they are hosting a 7 bag giveaway. I am not allowed to disclose my earnings but they aren't to much high.
---
Also Read:
Please do share guys this amazing Exclusive Interview with #MatureBagValaLadka Vaibhav Vora with your friends and keep visit on Digital GuruJi for more Interesting Interviews.
You may share your experience or any kind of suggestion with us by leaving a quick comment below. Thank You!