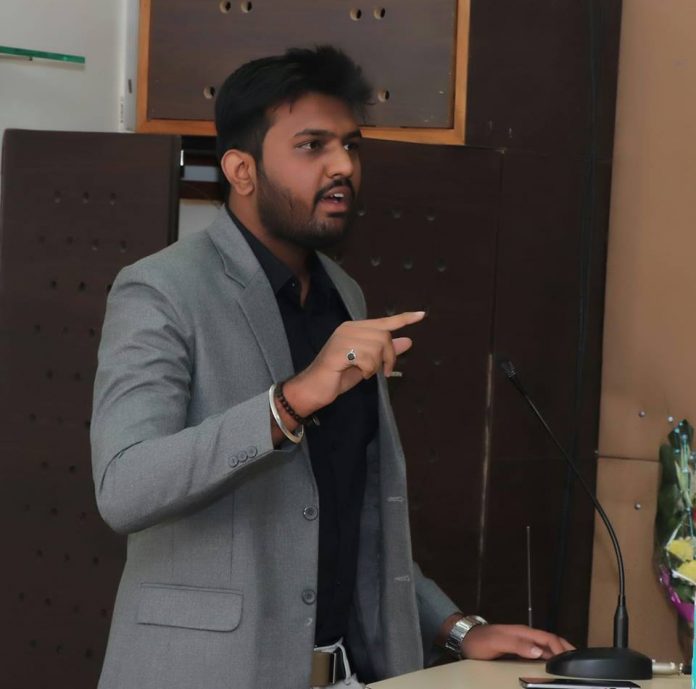 Interview with Founder of DigitalNil, Nilesh Komatwar
Nilesh Komatwar is the Founder of DigitalNil. Nilesh, started his journey of digital marketing at a very young age. Before Nilesh entered into this booming industry, Nilesh Komatwar was in the business field and failed to launch a product. Nilesh worked in a Business mentoring company in Pune, India and met with many skilled entrepreneurs and startup founders.
Now Nilesh is having a network with 100+ entrepreneurs. Nilesh Komatwar suffered through failure and have seen many of the entrepreneurs and startups fail which made him more compassionate. Through his experiences, Nilesh Komatwar found that most of the entrepreneurs fail because they couldn't approach the right customers. So Nilesh decided to build his own firm and take the business online.
With the aim of starting the digital marketing lessons, Nilesh started delivering intuitive lectures at MIT, Pune. Nilesh Komatwar has a strong affinity towards online branding and digital marketing.
Digital Guruji: Please introduce yourself to our audience?
Nilesh Komatwar: Hello everyone, I am Nilesh Komatwar, a 21 year old resident of Pune, Maharashtra. I run a digital agency namely DigitalNil which helps entrepreneurs, startups and freelancers to grow digitally by endorsing their talent and realizing their full potential with us.
Digital Guruji: How did you started DigitalNil?
Nilesh Komatwar: People say I have a very dynamic personality which enables me to adapt according to the situation and the task at hand.
While I was an Entrepreneur in my last company, even after lack of sufficient funds, I was able to accomplish only the necessary couple of things. Back then I realized we don't have
enough revenue to pay for the traditional advertisements. With some efforts I discovered a new and diverse way of marketing through digital media platforms, this is how I was
introduced to the amazing and ever growing field of digital marketing..
That is how I started my journey into learning digital marketing. I was in a continuous cycle of learning and application, this gave me a first hand practical knowledge about implementation of everything I was learning and doing all at once, this landed me my first
opportunity to speak about digital marketing in colleges.
Everything was not sunshine and rainbows, I had to face all the hiccups an entrepreneur faces in their initial days. Generating revenue and funds was the first and foremost obstacle I endured.
Digital Guruji: what's your education qualification?
Nilesh Komatwar: Currently I am a student in third year pursuing Bachelors in Technology in electronics and communication from Pimpri chinchwad college of engineering.
Digital Guruji: What kind of problem did you face in the journey of DigitalNil?
Nilesh Komatwar: I, just like every new startup out there have struggled, had the worst of days, but as they say, persistance shall prevail. And I believe in myself and in my hard work. After 3 unsuccesful attempts in startups, I have a feeling DigitalNil is going the right way.
Few lessons which I learnt through my journey –
1. The first thing I learnt in my journey was that this is a very lonely path. And I don't
blame anybody for that. It will take time for anybody to trust something new, especially when done by somebody new to that field.
2. This is a very cutthroat market, one wrong step and you will be exploited. I learnt it the hard way. But that only gave me a learning experience on how to take each step.
3. Whenever you are setting up your own startup. Keep these things clear in your head. Your mode of revenue generation and the uniqueness in your portfolio, how you will be different from everyone out there. You ROI.
4. Criticism is gonna be your shadow everywhere you go and with everything you do. Take it in a positive way. You may learn a lot from the critics. And like I said persistance shall prevail.
5. For every problem out there you will have to come up with a new and dynamic solution and you will grow, you will definitely grow.
Digital Guruji: What did you do to get rid of it?
Nilesh Komatwar: Your biggest asset and enemy is time. Use it properly and you shall flourish. Knowledge can be a double edged sword, the right learnings can make you succesfull and the wrong ones may not. Simple.
My belief is to work hard and persist. You will definitely see results of your hard work in the
future, sooner or later you hard work will manifest into all that you dreamt of.
Digital Guruji: what are your Future Plans?
Nilesh Komatwar: I have not thought much about it right now. Currently I just want to manoeuvre my way succesfully out of everything life and this world has to throw at me.
Digital Guruji: How do you manage your time?
Nilesh Komatwar: I make a to do list everyday, stick to the plan and work accordingly.
Digital Guruji: Any success mantras for our readers?
Nilesh Komatwar: Never think of your solution as inadequate even before trying it out. Trust in yourself, your instincts and your plans. Even the smallest of changes can bring out the biggest and best results.
Digital Guruji: What makes you feel happy?
Nilesh Komatwar: Happy Client = Happy Nil, helping a new start-up or a freelancer to grow exhilarates me, as we say "It's always about "WE" not "ME" "
---
Also Read:
---
Digital Guruji: What's are your weakness?
Nilesh Komatwar: Food Cravings at the wrong time and the wrong places. Even now
a thought ran though my head about a steaming plate of hyderabadi biryani.
Digital Guruji: Any incidence in your life which you can't forget alife?
Nilesh Komatwar: Yes, there are many, but the one of them that I remember vividly and motivates me daily is when a guy who once criticized me called up out of the blue and asked if he could join me.
That made me believe in myself even more.
Digital Guruji: What was the reaction of your parents when you told that you are going to start online?
Nilesh Komatwar: My parents are like any other Indian parent. They have not been against this totally but have made it very clear that my engineering comes paramount.
The day my business affects my studies I shall feel their wrath, so to speak.
Digital Guruji: Who is your idol and why?
Nilesh Komatwar: I always see Deepak Kankaraju sir as my idol. I share quite a lot of similarities with him in terms of where we started. Both from an engineering background and self taught in digital marketing.
Whenever I am down and about to give up. I pay a quick visit to his profile and go through the stories about him and learn something new every single time. And I am back on my feet again.
Digital Guruji:  What's your daily life routine?
Nilesh Komatwar: Day starts with a small walk, then breakfast, making a to do list while having breakfast, then college and even work in off lectures, having a team call to check with the to do list status, delivering the promises, then back to home studying, Dinner, I read couple of articles then sleep.