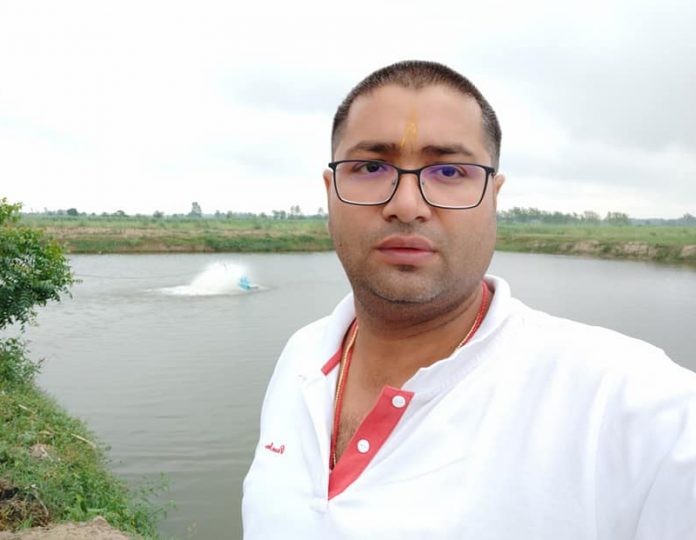 Rajnish Kumar is the Founder of PVR Aqua, Fish Farming Institute in Modinagar. Rajnish belongs to Uttar Pardesh, he left his job to start his career in Fish Farming. PVR Aqua, a Food and Agriculture Organization as including recreational, livelihood and commercial fishing, and the harvesting, processing, and marketing sectors.
Rajnish Kumar Interview
Digital Guruji : Hi!! Will you please introduce yourself to our readers? 
Rajnish Kumar : Hello, I am Rajnish Kumar a progressive Fish farmer and the founder of PVR Aqua – Fish Farming Institute. I belong to Uttar Pradesh and I am doing fish farming in 22 Acres from the past 2 years with a Primary search in this sector. I left the job after serving many MNC's and Indian companies in the Telecom sector (B.Tech in Communications ) for 14 years and now I am happy with Growth, Progress & Success. 
Digital Guruji : How fishes are beneficial for humans? 
Rajnish Kumar : Fish has long been known as a great source of protein and low in fat.  It is a reality that most people probably don't get enough fish in their diet, and thus don't reap the benefits of fish. 
So aside from great food to add to your diet for well, diet, and other health reasons, fish has also been found to help increase your heart and brain health.  It's all thanks to those omega 3 fatty acids.  You've probably heard about people take fish oil pills because of the benefits – eating them is even better!
Some of the major benefits of these omega 3 fatty acids:
Can help reduce inflammation
May reduce the risk of depression
Help with lowering blood pressure
May reduce symptoms and risk of arthritis
Important to the development of the child while pregnant
Can help with brain/mental health troubles in elderly
Digital Guruji : How did you come up with the name for your company 'PVR AQUA'? 
Rajnish Kumar : PVR stands Friends name and Aqua related to water so that we merge it PVR AQUA for fish farming.
Digital Guruji : What does PVR AQUA do? 
Rajnish Kumar : PVR AQUA doing Fish farming, Consultancy, Contract farming, seed bank & Feed Supplier. 
---
Also Read:
---
Digital Guruji : What are the benefits of Fish Farming, Aquaculture? 
Rajnish Kumar : The benefits of Fish Farming, Aquaculture are:
1). AN EXPLOSIVE MARKET: The market potential for a fish farming institute, aquaculture business is growing in India and many other countries in the world. With the increasing population of India currently, fishes are also cheaper than meat and good protein source, making it an economical meal when the buyer either cannot afford to purchase meat or simply just wants to have a fish meal. The explosive market size of fish farming business makes it one of the most important agricultural business space to venture into for any new, existing, or non-interested farmer.
2). LOW OPERATING COST: The cost of starting up and running a fish farming institute, is low, as compared to many other agricultural allied business ideas. Aquaculture farms, businesses have low operating costs and other businesses are capital centric. In the direct comparison of fish farming with poultry farming, fish farming has a lower operational cost, as fish feeds are cheaper, Aquaculture farms products have a lesser threatening comparison to other products.
3). GOVERNMENT SUPPORT: With the government's support to the fish farming institute, it only makes this moment a perfect time to consider Aquaculture farms as one of the money-making agriculture business ideas to enterprise into.
4). GREAT SOURCE OF PROTEIN: Fishery products are a source of protein, irrespective of the financial benefits fish farming, also contributes to its health benefits to the general public, fish farming would regularly stand as a healthy protein meal with rich health benefits to everyone.
Digital Guruji : What is your USP, which makes it unique & different from other start-ups in similar domains? 
Rajnish Kumar : Fish Farming is a very old Agriculture allied, USP is that we are creating a live fish market in Delhi region and farming with technology to enhance productivity and increase the livelihood of Farmers.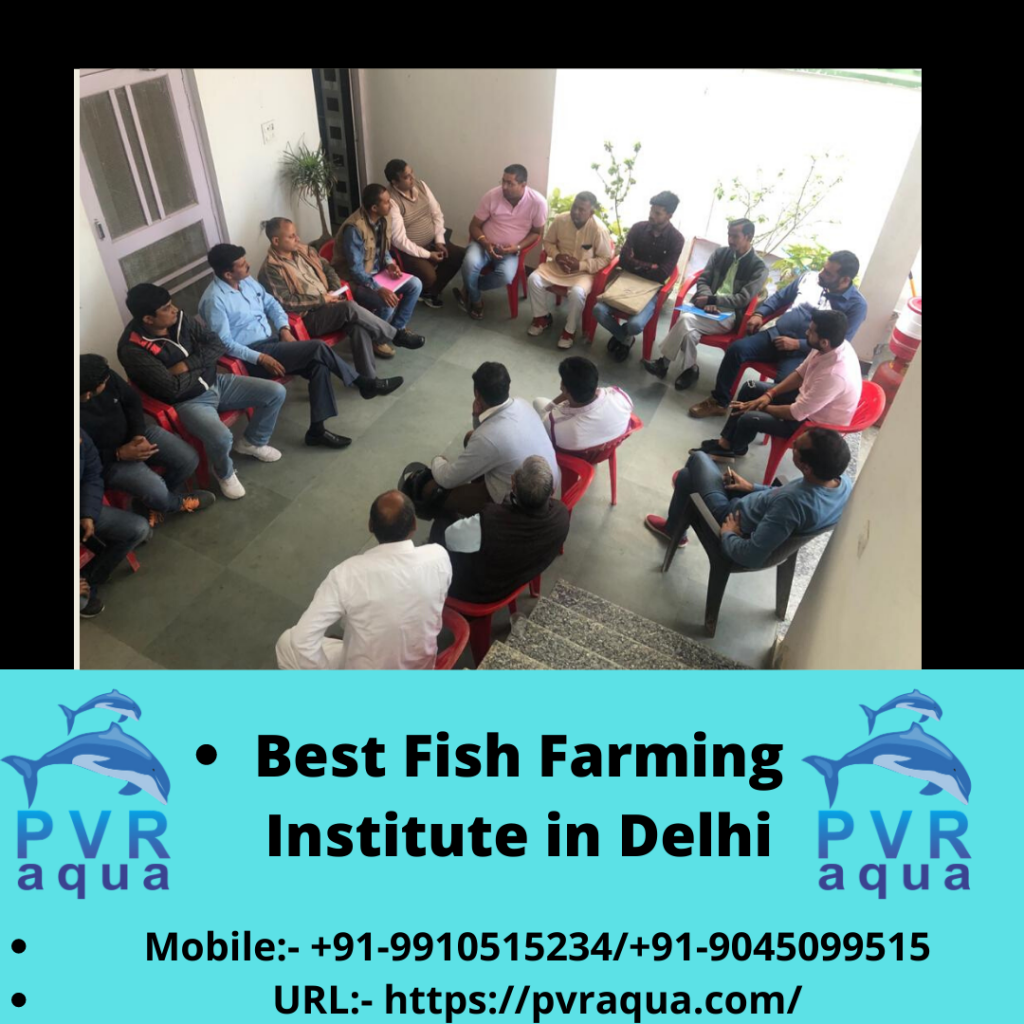 Digital Guruji : How do you define success? 
Rajnish Kumar : Humanity with Progress is Success. 
Digital Guruji : What are the Important Things You Need to Know Before kick off a fish culture business?
Rajnish Kumar : The 5 Important Things You Need to Know Before kick-off a fish culture business are:
1. LOCATION OF THE FISH FARM: While selecting the location for your fish farming institute, you need to consider its proximity from the nearest town, market requirement, the security in the vicinity, and transport connectivity, Ensure the suitable environment for the growth of your fish.
2. LAND MASS: The size of the land depends on the forecast in terms of funds you are looking from fish farming after crop harvested, Usually, a plot of land or 2 is great to start out a fish farming business. Acquiring the landmass to set up your fish farm should be strategically done. You need to get a cheap property in a not-so rural area, but still close to a major city.
3. POND PLANNING, SIZE, DESIGN, CONSTRUCTION, AND CONSIDERATION: You need to determine the type of pond that you need to be constructed. For a pond, a flat area that has access to a well could be used. But for a watershed pond, steeper areas near a natural source of water are to be used. It's usually best to contact the services of an aquaculture consultant. They'd get your full requirements, examine your goals, determine what you truly need, and ensure the construction work and general requirements of the fish ponds are properly met.
4. SOURCE OF WATER SUPPLY: The source of water supply to the fish ponds is important to the proper development and maturity of your fish farm for commercial use. It's important to have a proper borehole system built in the vicinity to ensure a reliable source of water supply. This gets even more crucial with the fact that the water would have to be changed on a regular interval, and a lack therein, of proper adequate water supply to ensure the survival of these fishes, would lead to a considerable loss in investments.
5. A GOOD KNOWLEDGE OF RUNNING THE FARM: This is probably the most important thing to know. You must have a sound knowledge of how to run an aquaculture business. Attend a lecture or a seminar on aquaculture, so you can learn a lot more about the operational stuff of fish farming. Equipped with this knowledge, you'd gain valuable information about fish farming, and every it takes to turn out successful and development?
---
Also Read:
---
Digital Guruji : How has been the support from friends and family? 
Rajnish Kumar : Extended support from Family and Friends as required . 
Digital Guruji : Any Special Achievements you want to share with us? 
Rajnish Kumar : Turn around / phase shift from technical background to Farming and after that gell in this and enjoying . 
Digital Guruji : Do you believe there is some sort of pattern or formula to becoming a successful entrepreneur? 
Rajnish Kumar : Yes first search for any stuff from your side only at ground level secondly from Google then compare and kick off a project for success. 
Digital Guruji : What are the End to End Services, PVR Aqua provides?
Rajnish Kumar : We have years of experience to help you get the job done & we are here to assist you (Culture / Capture / Marketing) with knowledge Transfer and Hands-on Experience.
The End to End services of PVR Aqua are:
• Site Selection considering all stuff (Transport, Market, Future expansion, land size ).
• Water & Soil testing to understand parameters for Culture.
• Pond & Tank construction, Water availability resources cross-check.
• Knowledge Transfer session with Qualified manpower of Aqua Industry.
• Seed Selection (Quality) Assistance.
• Feed management and growth Monitoring.
• Sampling periodically.
• Disease Monitoring and medication as per requirement.
• Technician support.
• Sales & Marketing Assistance.
• Tour & Visit depends on-farm, at prior intimation and need basis.
Charges depend on Land Size & Number of tanks and Services depends on a case by case. All things are captured / Documented before the kick-off Project.
Digital Guruji : Any regrets till now? If yes, will you like to share it with our readers? 
Rajnish Kumar : No regret after starts my project , enjoying the same and happy . 
Digital Guruji : What are your Principals? 
Rajnish Kumar : Trust and speed are directly proportional. 
Digital Guruji : Tell us about your learning's in this entrepreneurship journey. 
Rajnish Kumar : Work with Vision, Mission and Focus then only you can enjoy . 
Digital Guruji : What is next for you and your team? 
Rajnish Kumar : Planning to acquire 300+ acre land for Integration Farming down line 5 years. 
Digital Guruji : Any message that you want to send to our your readers? 
Rajnish Kumar : India is Agriculture based country and that is our backbone & no impact even in a recession as compared to developed countries, Try to connect all nodes and think about Agriculture Allied projects, Interesting and amazing. 
Here ends Interview with Rajnish Kumar is the Founder of PVR Aqua, Fish Farming Institute in Modinagar. You can connect with PVR Aqua on Facebook.