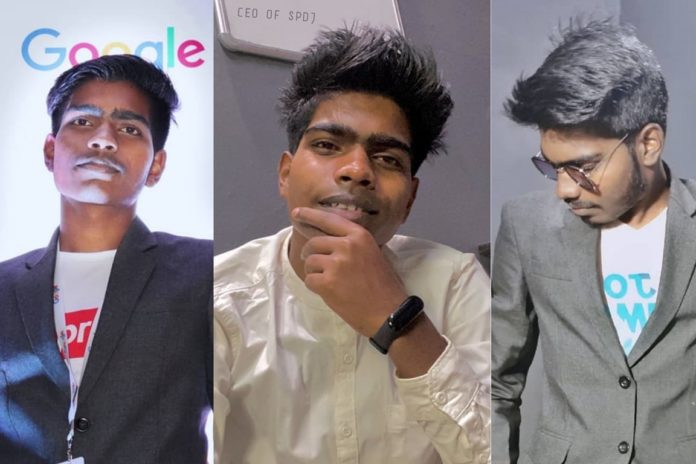 Jitendra Verma is the Founder and CEO of SPDJ Media, also a well known Blogger, Youtuber, Android Developer, And Digital Marketer from Hazaribag, Jharkhand ( India ).
Jitendra Verma Interview
Digital Guruji: Tell us a bit about yourself. 
Jitendra Kumar : My Name Is Jitendra Kumar Dangi ( CEO & Founder OF SPDJ Media), But Everyone Is Know's Me From Name Of Jitendra Verma ( SPDJ ). I am from Jharkhand ( Hazaribag ), And I am a Full-Time Blogger, Youtuber, Android Developer, And Digital Marketer. That's means I am all in one, and I also have very good knowledge of Android Development. I love Blogging And Digital Marketing in my life because it's my life. I have completed my basic education from DR BASANT NARAYAN HIGH SCHOOL BASARIYA. I don't go to colleges or universities, but yes I have done my admission at Aisect University Hazaribag. but I am not interested in college or university, I have only one interest, it's only Being A Great ️Entrepreneur Of India.
Digital Guruji: What about your brand?
Jitendra Kumar : SPDJ MEDIA's platforms enable people to discover and create a world of content powered by technology. We inform, educate, entertain, and inspire people across languages, cultures, and geographies. currently, we have our 3 Products in SPDJ MEDIA Platforms.
More Products Comming Soon… We Have Ultimate Power Of Creativity in my SPDJ Team.
Digital Guruji: What were the challenges that you faced initially and how did you overcome it?
Jitendra Kumar : Mujhe Bachpan mai bahut bola jaata thaa force Kiya jata thaa ki padhai karlo a internet zindagi kharab kar dega or bhi bahut kuch, even shool mai bhi sab log looser he samjhte the mujhe, kiyuki mai din bhar bas internet or mobile mai laga rehta tha, mere family walo ko lagta tha even mere papa or maa ko bhi ki mera beta apna zindagi kharab kar raha hai a internet or mobile kai chkkar mai, even a kiyu na ho kiyuki ab mere family walo ko thodi pata tha ki internet mai bhi itna kuch possible hai, ess hissab sai mere family wale mere liye sahi he sochte the bhale he mai unki baat nahi maanta tha, kiyuki wo to khudh chathe the ki mai padahi karu or nokri lu, lakin mai to pagal tha internet or mobile kai picche, din mai khana bhi na mile to bhi chalega lakin internet hona chahaiye its very important for me, kuch aisa haal tha mera.
Then maine #Blogging kai bare mai internet sai jana or fir bas lag gaya #Blogging mai, or karta gaya krata gaya, even 2015 mai maine start kiya tha Blogging or 2018 tak to kuch mila he nahi tha, mano to kabhi kabhi aisa lagta tha ki yaar fass gaya mai to a #Blogging karke lakin ahi hai ki isee fasna nahi Sikhna kehte hai, maine sikha uske baad in 4 Years maine maine bahut kuch sikha or faild bhi hua lakin sabko pata hai or sab jaante hai if you work hard, you will get what you want, mere sath bhi kuch aisa he hua or fir 2019 kai baad mujhe #Blogging sai income aana start ho gaya or mai fir move karta gaya upgrades karta gaya.
PS – Even Mujhe 2015 Sai 2018 End Tak Jeetna Bhi Pocket Money Mila Tha Maine Unme Sai 80% pocket money ka Internet Pack Bharwa Bharwa Kar Paise West Kiye Tha, Jo Mai Apne Papa sai jhuth bol diya karta tha ki maine to internet pack nahi bharwaya hai uska maine road side thele or dukaan par khane mai use kiya hai. lakin mai chupke sai internet pack bharwa liya karta tha.
Digital Guruji: What are your future plans?
Jitendra Kumar : SPDJMEDIA – A Hai Hamari Company Jispar Aap Ek Din Proud Feel Karogey Kiyuki Mujhe Mere Mind Or Meri Team Pai itna bharosa hai ki hamlog hamesha kuch alag Banaane ki koshish karte rahegey jisse hame or hamare desh #India ko Proud Feel Jarur Hoga Ek Din. Kiyuki Hamlogo kai Jeetne Bhi Products Bann rahe Hai or hamlog Jo Bhi Products banate hai wo kuch alag or kuch creative hota hai, or aaplogo ko support raha to ek din india he nahi Pure World Mai #SPDJMEDIA Ka Naam Ayega. Jisse Hamare Indians Ko Proud Feel Hoga. #WeLoveIndia #WeLoveWorld
Digital Guruji: How do you define success?
Jitendra Kumar : Success is not a destination, it is a journey of life.
Digital Guruji: If you had a magic stick, which are the two things you would change in the world?
Jitendra Kumar : 1. Earth Pahle Jaisha Ban Jaaye.
                            2. Change The Mindset Of Everyone.
Digital Guruji : What inspires you? 
Jitendra Kumar : I am always inspired by my self and books because in life you are the only person who can control your mind you have the power to do anything or get anything, so don't listen to motivation be motivation.
Digital Guruji : If you were given a choice of meeting any person you want, who will be that person?
Jitendra Kumar : #Bill_Gates  And #Robertdowneyjr ( Tony Stark ) iron Man
#Bill_Gates – Bill Gates Because of My Entrepreneur Journey. it's Very Long To Describe!
#Robertdowneyjr – From Tony Stark, I Learned What is Positive Attitude And Personality. 
Digital Guruji : What is your greatest fear?
Jitendra Kumar : There is only one fear, kahi mera dimag kaam krna na band karde, bas iske siwa mujhe kise cheez sai dar nahi lagta. because mera dimag kabhi saant nahi rehta, mai hamesha sochte rehta hu ki acche ko behtar kaise banaye, or behtar ko or behtar kaise banaye or bhi kuch aise cheeze jinhe explain krna mai accha nahi samjhta
Also Read:
Tell Me About Your Education, How Your Study's Going On?
Maine 12th Board ( Science ) lekar Padha Tha, Or Currently Abhi graduation mai hu or even jab mai an interview de raha hu huss hissab sai 2 saal kai baad mere graduation bhi complete ho jaiga., or Mujhe padhai mai jara sa bhi man nahi lgata, aajtak Maine jo bhi sikha hai uske piche #GoogleBaba Or #Books ka hath hai, kiyuki agar wo nahi hote to mai aaj yha tak to pahch he nhi pata. My Family Is Joint Family With 15+ Family Members and mere family wale sab best hai or hamesha mujhe support karte ha.
How Many Hours Do You Dedicate To Your Work? How You Do Time Management?
Pahli Baat Me Time ko bahut valu deta hu, dusri baat me social media pe 24 Hours Online rhta hu, kiyuki har blogger ko pata hai Blogging matlb social world se connected rahna padta hai. dusri baat me aaj bhi 24 ghante me 15 hours Se 18 hours tak Blogging karta Hu. or mere liye raat ho ya din koi fark nahi padta kiyuki bas mehnat karte jana hai karte jana hai Blogging me sabko result dikh he jaata hai.
Would You Like To Tell Some Success Mantras to our Young Readers?
Dekho Aaplog jo bhi mera interview padh rahe ho, me abhi aapko kuch baate bolunga or wo baat aap bas ak baar follow jarur karna, ya fir koi santi se place pe jaake is baat ko jarur sochna.
Life Me Kuch karna hai To ak Goal banawo
Goal Jaishe he ban jaaye uske baad a socho ki wo pura karne ke liye kya kya karna padega
fir jaihse he a pata chal jaaye ki kya kya karna padega, us goal ko pura karne ke liye, bas or kya fir paaglo ki tarhaa apne goal ke piche bhaggho, sala din ho ya raat ghanta fark padta hai, jab tak aap apne goal tak nahi pahuchte tab tak bas, sala paglo ki tarha mehnat karo,, duniya tumhe pagal bhi bolne lage na to bhi khudh ko bas ak he baat bolo " Ghanta fark padta hai teri baato se mujhe " me to sala to a karke rahunga, or a bhi sahi baat hai jab duniya tumhe pagal kahna suru karde samjh jana aap sahi direction me ho, or me aapko kya bolu, aajse 3 saal pahle sab mujhe mobile ke keeda kaha karte the, lakin aaj wahi logg apne ko Dekh kar Sochte hai, abe a kaha se kaha pahuch gaya.
Dusri Baat Sikhna band kabhi mat Karo, kabhi matlb kabhi nahi
Tisri baat " First Learn Then earn "
baaki sapne bahut bade bade dekho, or kharch itnaa karo ki duniya bhi dekh kar pagal ho jaaye, kiyuki jab taak aapko udana nahi ayega, tab tak aap kamane ke bare me nahi sochogey sirf bachane ke bare me sochogey.
Baki bas Ahi Duniya aapke bare me kuch bhi soche, hai to sala ak insaan he na, Follow Your dream, Follow your Work, You Will Get Success not immediately but definitely.
Start Dreaming
Do What You Want
Never Stop
Succus is not a destination it is a Journey
You Will Fail But Don't Worry Getup Again And Start Again
You Don't Know What You Are And What You Can Do it.
There is only 1 life, start taking it seriously.
Time is Everything
Take Risk Get Big
Don't Trust On Anyone
You Are Only One 
Nobody Will Help You in Your Bad Situation
Don't  Waste Your Time
Time Never Come Again
You Make Your Own Luck
---
Also Read:
How Did Your Family Reacted When You Told Them You Will Start Earning Online?
Yes Pahle mere family ko dar lagta tha ki mera beta kahi bigad naa jaaye, unko kuch samjh he nahi aata tha ki, Blogging kya hota hai, intrnet kya hota tha, matlb abhi aata hai lakin jab maine suru kiya tha tab ki baat hai lagbhgah 4 saal pahle ki baat kar raha hu, unko lagta tha ahi mobile dekar bigaad to nahi diya apne bache ho, or ghar wale hamesha bolte rahte the ki din bhar mobile or sirf or sirf internet par laga rahta hai.
lakin baat wahi hai ki ki agar aap internet ka use acche se use karte ho to acche fyde milengey or galat use karogey to galat fyde milengey, maine acche ke liye use kiya, or Without Any teacher, or without any help… sabkuch Google Se sikh dala…maine Blogging se lekar everything Google se sikha hai.
My First Salary From Internet ( Adsense )
Dosto Mera Google Se Pahla Payment Rs 17000 ( 234$ ) ka aaya Tha 2018/Januray Ke Month Me. Usdin se mujhe Ghar Se Bhi Full Support Milne laga or aaj me Per Month Blogging + Online se  Month Ka Accha khasa paisa kamata hu + Me Aaaj mujhe bahut log jaante hai, aani ki mujhe Blogging se bahut fyde hue hai, Paisa + Paison + Izzat sabkuch sath me mil raha hai. or i hope ki me aage aaplogo ke iye kuch bada kar saku.
Dangerous Movment In My Life
me Jab 12th me padhthaa tha tab me Room Rent pe leke rahta tha city me, ak din Roti pakane waqt gas cylinder me Automatic aag lag gaya tha, mujhe nahi pata fata q nahi, lakin bahut darawanaa tha wo din agar wo gas cylinder fat jaata to aaj apun yhaa pe nahi rahta. mujhe wo din hamesha Yaad rahega.
Digital Guruji : Any more Interesting Story Do You Want to Share with Us.
Jitendra Kumar : Bas Ek Sabd Unke Liye Jo Log A Interview Padh rahe Hai, agar aapne yhaa tak pura interview padha hai to mitr vishwas karo mai aapke liye bhagwan sai dua karunga ki aapko wo har khusi wo har cheeze mile jo aap apni zindagi mai paana chathe hai, kiyuki milta usee ko hai jo kaam acche karte hai dil saaf rakhte hai, mehnat karte hai, agar aap bhi un mai sai ek hai to abhi or ab sai start ho jaawo apke zindagi ka 1 second bhi kitna kimti hai wo aapko nahi pata. 
Thanks #DIGITALGURUJI