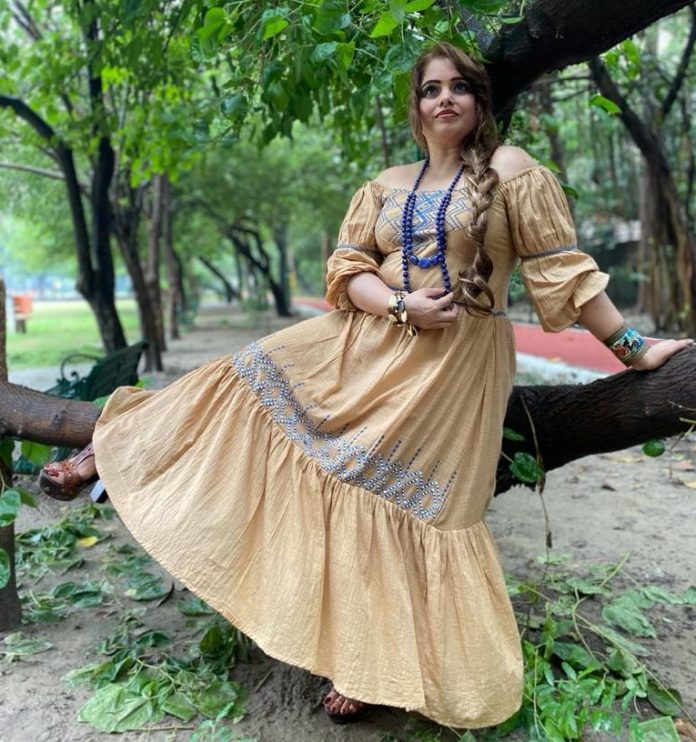 Deepika Chandna is a well-known top fashion designer from Delhi, founder of Bridgekala. She has hosted the various award shows. She has designed many outfits for Bollywood celebrities like kainaat Arora, Sapna Choudhary, Chitrangada Singh, sunny leone, Claudia ciesla, etc. Deepika has presented their outfits for the miss Asia fashion show. She has organized various fashion in Delhi and out of Delhi. Deepika Chandna also presented their outfits in her bold and beautiful fashion series. Interview with Top Fashion Designer Deepika Chandna, Founder of Bridgekala.
Deepika Chandna and her husband Kailash Chandna opened their shop in 1985 (Delhi) and since then their shop has been the favorite shopping spot of brides to be. Bridgekala offers every kind of garment for females. You can get a bridal range at Bridgekala which includes designer sarees, exquisite lehenga cholis, trendy salwar suits, elegant gowns, tunic dresses, and western wedding dresses.
Deepika Chandna Personal Information
Full Birth Name
Deepika Chandna Agnihotri
Nick name
Deepa
Date of Birth (DOB), Birthday
August 29
Hometown
Delhi
Current Residence
Delhi
Nationality
Indian
Famous For
1. Founder of Designer Den.
2. Founder of Bridgekala.
3. Top Fashion Designer.
Awards
1. Jaipur Fashion Week
2. Wedding Mantra Award
3. Glamour Mantra Award
Marital Status
Married
School
Green field school
College/University
Miranda house
Hobbies
Dancing, Singing, Cooking
Favorite Celebrities
Leonardo Dicaprio
Dream Holiday Destination
USA
Best Friend
Lord Shiva
Husband
Kailash Chandna
Facebook
Link
Instagram
Link
Deepika Chandna Agnihotri Interview
Digital Guruji : What were the challenges that you faced initially and how did you overcome it?
Deepika Chandna : I have faced many challenges during my journey. Like marriage, care of family, and business together. many ups and downs come in my life. but as said life is a name challenge. I could overcome these challenges from my family's support.
Digital Guruji : How do you define success? Are you satisfied with your achievements?
Deepika Chandna : For me, success is happiness and achieving your dreams while making a difference in the world. I am happy as far as I achieved.. but there is a thin line between success and satisfaction.. and I have to achieve this satisfaction.
Digital Guruji : How has been the support from friends and family?
Deepika Chandna : My friends and my family have always supported me.. they are always with me whenever I need them… I am always great full to my family and friends to support me in any condition.
Digital Guruji : Tell us something about your education & family background.
Deepika Chandna : I had completed my schooling at Green Field School, Saket. Graduation from Miranda house College Delhi university. I have a brother and a sister. My father and my brother is a well-known world-famous artist. My mother is a house mine. I got my artistic talent from my father.. and I got my cooking, dancing, workshop talent from my mother.
Digital Guruji : Any Special Achievements you want to share with us?
Deepika Chandna : Lots of things I have that I can share with you… Like my charity achievement for social worker.. some biggest fashion shows with Bollywood celebrities.. and my biggest achievement was when My outfit was selected for miss Asia fashion show.
---
Also Read:
---
Digital Guruji : If you had a magic stick, which are the two things you would change in the world?
Deepika Chandna : First thing I would like to change the mentality of those people who think that women can run only their house .. who made for home..
Second thing I would like to change people's taste for fashion & style.
Digital Guruji : What are your biggest achievements and falls in your journey?
Deepika Chandna : My biggest achievement is my brand. And I have a big chain of clients form india and out of India.
Digital Guruji : Your previous jobs/ventures? What were you doing before choosing this field?
Deepika Chandna : From the last 35 years ,I am into this fashion designing field.
Digital Guruji : What is the part of your life experience you would alter if you had the chance to?
Deepika Chandna : In my struggling time I could not give more time to your family and children.. these parts of my life experience I would alter if I had the chance to.
Digital Guruji : If you had the chance to start your career over again, what would you do differently?
Deepika Chandna : I use some new techniques, and ideas to make my brand more successful. I would like to apply some interesting ideas to influence my clients for fashion.
Digital Guruji : What inspires you?
Deepika Chandna : Fashion is my way to express how much l love my self.
Digital Guruji : What is the biggest misconception that you think people have about you?
Deepika Chandna : People have this misconception of me as a snob. This is just not the case in fact I am just the opposite of it. My close ones know this well. My style is classy and I have a bold approach to life, despite that, I have this really generous, kind, and down to earth side of me.
Digital Guruji : What is your greatest fear, and how do you manage fear?
Deepika Chandna : I have this fear of falling sick in any way that I won't b able enough to do my work. I want to wake up to new ideas and new challenges every day and keep going because that's what I love to do and that's my identity.
---
Also Read:
---
Digital Guruji : Tell us about your learning's in this fashion industry journey.
Deepika Chandna : Having a formal education in fashion was just not enough because the real industry demands a lot more. That's another elaborated topic to talk about. Long story short. Art or creativity is a vast And endless ocean to dive in and there's a new trend, new fashion, new designs, and all' sorts of new coming in. One has to be up to date and know absolutely everything.
Not just fashion or in the creative field but also about the economy and business aspect.
Fashion is said to be taken lightly but it's as difficult as MBBS and IIT. It is not everyone's cup of tea.
Digital Guruji : What next? What are your future goals?
Deepika Chandna : I would like to represent my brand on an international level. The head story and positive person I am I would want to see my brand at its very best possible both national and international. I am blessed with a lovely team who work so hard with love and dedication they are more like my family had such an army I am sure we will achieve goals together.
Digital Guruji : What advice would you like to give our young readers, especially women entrepreneurs?
Deepika Chandna : Dear ladies, study hard. So one day your first name will be enough. I am sure the young minds these days are filled with new ideas and today's women are just doing wonders and are brilliant on their own. It's not just a competitive world it's inspiring as well. But being in this industry for the last 20 years and still counting I would want to say a few important to do's :
Keep practicing your skills the known and the unknown both.
Stay updated with the market needs and demands.
Know the trend
Have a futuristic vision
Leave no stone unturned in a matter of business. Encash every opportunity coming your way.
Most importantly love yourself and love your job.
Here Ends Interview with Top Fashion Designer Deepika Chandna, founder of bridgekala.