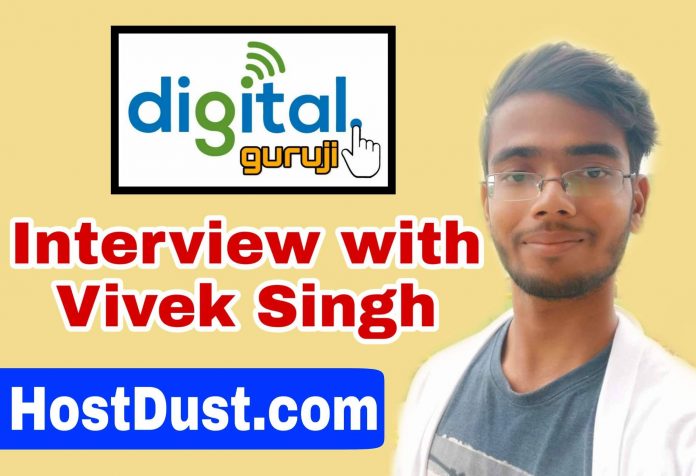 Vivek Singh also known as "Hhv" (born April 20, 1998) is an Indian entrepreneur, part time digital media marketer, Website developer, and Programmer. He started HostDust.com in 2017.
HostDust is one of the best Hosting web in India. It is the fastest growing hosting company. The easy, affordable and feature rich hosting services for small to large organizations are making Hostdust the preferred for hosting services over internet. Today, Hostdust have an ever expanding customer base and winning hearts of everyone.
Interview With Vivek Singh (HOSTDUST)
Digital Guruji: What Are Your Future Plans?
Vivek Singh: hostdust ko fully establish krna hai not only in india but international level pe bhi.
Digital Guruji: What are your current Projects that are on board?
Vivek Singh: currently i am working on technocode.in which is sponsored by technocrats institute of technology a platform where student can sharpen their programming and coding skills at different platforms.
Digital Guruji: You become quite successful at a small age, what your parents feel?
Vivek Singh: my  dad knows everything and he is so supporting but sometimes he just says online world is so tricky just be careful thats it. And mom i don't think that she is going to understand online earning.
Also Read:
Digital Guruji: How your study's going on. How much time do you give at your work? How do you divide your time between studies and work?
Vivek Singh:  currently i am doing my UG from Technocrats Institute of Technology excellence bhopal, B.E CSE 3rd year, rahi baat padhai ki aur kaam karne ki to padhai to ek raat pehle hi hoti hai aur kaam to colg jate wat agar thoda samaye mil jaye to bhi ho jata hai, mere According work krne ka koi fix time nhi hota jab time mile work kr lena chahiye
Digital Guruji: Please tell some success mantras to our readers?
Vivek Singh:  abhi to sucess me bahut time hai, han kuch chote achievements huye hai like own car, own house, own bike and atleast khud itna earn kr leta hu ki khud ki padhai aur kharche nikal saku, And work field me sabse achi success ye thi ki Smart India hackathon 2k18 me select hoke finals tak pahucha tha and this time Vishwakarma awards me bhi select hua hu
Digital Guruji: Do you have any girlfriend, what does she do?
Vivek Singh:  yes i have, and she is also a programmer
Digital Guruji: Tell us something about your family, their occupation, their behavior when you stated earning digitally?
Vivek Singh:  4 log ki family hai mom dad aur hum 2 bhai, mom house maker hai, dad pvt job me hai and bhai abhi BE pass out hai, and online world me mene 9th class me kadam rakhe the hacking and web development fir CEH ki tyari ki and exam crack kiya, uske baad 2017 se mene page world and digital earning start ki.
Also Read:
Digital Guruji: Any incidence which you can't forget all life?
Vivek Singh: ese to bahut se incidents huye hai life me actually hote hi rehte hai but sabse bekar tha jab mene ek project me investment kiya tha and due to fire pura project hi barbad ho gya tha.
Digital Guruji: What are your life goals, your destination, your Lifestyle?
Vivek Singh: life ka to ek hi goal hai itna kmana hai ki jitna kuch mere mom dad ne mere liye kiya hai utna to me chah ke bhi unke liye nhi kr sakta but atleast ab unhe kisi bhi chiz ki kami na hone du aur unhe ab kama na karna pade bas apne shok pure kar sake wo log. And about lifestyle to yaar bhale blogger aur devloper hu but lifestyle to meko esi chahiye ki mahine me adhe time to kahi ghumte rahu and life ko bas maje me nikalu