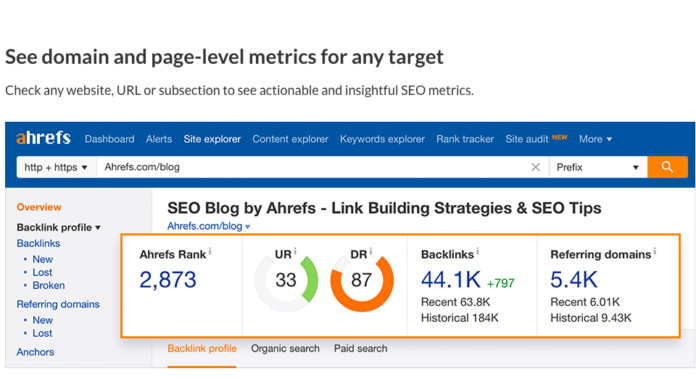 Can SEO be done without any SEO tool? In this article, I have pointed out why an SEO tool is an essence for your blog growth. 
You might have a strong SEO strategy, but without an SEO tool, you can't perform it. With an SEO tool, you can carry out your SEO strategies seamlessly. 
With lots of SEO tools, you need to access the one that provides accurate data. Every SEO marketer knows the importance of data. If you want to be a successful marketer, you need precise information.
To get precise information, you need a highly accurate and trustworthy SEO tool. Not only your site performance, but an SEO tool also helps you outperform your competitors. But how?
An SEO tool will let you monitor your competitors top ranking keywords. So, you can spy on your competitors' strategies and make more money online. 
Let me give you more information on why an SEO tool is needed for blog growth.
Top Reasons to choose an SEO tool for site growth
Since I have been doing SEO for many years, I know its importance. To help you learn SEO strategies, I am sharing my opinion on why an SEO tool is important for business growth.
Spying Your Competitors
Many marketers try to take the shortcut by using unethical marketing strategies. The best way to remain ethical and at the same time grow your business is by spying. 
When you spy on your competitors' strategy, you remain anonymous. Moreover, you are not harming anyone and your intentions aren't on the dark side.
By using top SEO tools like Ahrefs or SEMrush, you can analyze your competitors' SEO strategies. This would help you identify the loopholes in your website. 
Backlink:
You can be mysterious by knowing your competitor's backlink profile. Knowing the backlinks gives you insight into the authority of the sites. 
When you get this backlink information, you can reach out to the same websites. By generating the same content, you can ask the website owner for a backlink. By this, you can generate high authority backlinks for your blog.
Keyword ranking is very important for blog growth, but finding out which keywords you can rank for is difficult. This is where an SEO tool helps you in finding the right keywords. 
By spying on your competitor's keywords, you can identify which keywords they rank for. You can then decide whether you should rank for the same keywords or related ones. 
Save Time and Money
A site audit is a comprehensive way to find out everything about your site. A site audit is not only time-consuming but costly too. 
By using an SEO tool, you get site audits quickly and if not wrong at half the price. The only thing you will need is the ability to understand the results from a site audit.
It's all about artificial intelligence that SEO tools like Similarweb provides. Other Similarweb alternatives like SEMrush and Ahrefs also provide the same amount of information. 
By using these SEO tools, you can fetch the data that you need. Get reports generated easily and then analyze the reports.
So why is a site audit needed?
A site audit provides information about issues that need to be fixed on priority. It could be broken links, site speed, or anything that matters the most for your site growth.
A site audit is a key to success for better SEO of your site. 
Relevant Keywords For high Conversion
It's about a pool of keywords. It's about finding the high-converting and relevant keywords that you can potentially rank for.
Most marketers just run for search volume and low competition. But that's not everything about finding relevant keywords. More importantly, you should know the intent behind a user's search.
You should first find out the user's behavior over a keyword. Are our users looking for freebies or a solution to critical problems? 
Keyword Research:
For different types of content, you will need different keywords. With an SEO tool, you can get relevant keywords for any kind of article.
Your site might be ranking for some keywords already that you don't even know. By using an SEO tool, you can identify which keywords your site ranks for. You can then spy on your competitors' top-ranking keywords and use the same. 
Keyword research with an SEO tool helps in the following ways:
Optimize the keyword ranking strategy and boost site ranking.
Identify competitors' top ranking keywords. Research well before you put them into your blog.
Helps you decide whether to keep the already ranked keywords or eliminate them.
User's/ Buyer's Intent:
Do you know the top-ranking keywords are the ones that have a clear intent? It's not necessary that the keywords will generate sales. But it's worth targeting because at least these keywords would generate leads. 
Simplify your content marketing strategies by identifying the highest-ranking posts. This would also let you know from where these posts receive backlinks. So if  I am not wrong, it's kind of two arrows from one bow. 
Track Performance With Key Metrics
Site ranking is not the only metric to track your site performance. An SEO tool provides many other useful metrics called KPIs.
Key performance indicators (KPIs) will help you measure the following metrics:
Page Authority and Domain Authority
Total number of new and lost backlinks
Traffic in different countries
Total number of clicks, and traffic for a particular keyword, page or a post.
Leads, sales and even social media sharing.
You should always keep a track of your site performance. This ensures you are not left behind your competitors. Moreover, you can build new strategies and get high conversions.
Graphical Data Representation
A graphical data representation or visual conceptualization can be very helpful. Data visualization gives you the numbers that make a lot of sense.
Visual data not only helps you get an idea of SEO progress over time but also helps you analyze your content marketing. 
Reports at a glance with SEO tools help you quickly analyze your content. If you want to satisfy your clients, you can show them key metrics. You can share the reports with your clients so they know what hard work you have done for them.
You can additionally provide a summary
This helps you make a strong bond with the clients and keep them satisfied and happy.
Final Words
So what did you understand from this topic?
At Least you must have understood the importance of an SEO tool. Not only for monitoring your site traffic but also for making high-convertible SEO strategies. 
You can create a rock-solid SEO foundation for your site and your clients. 
I would love to help you all with my SEO expertise.