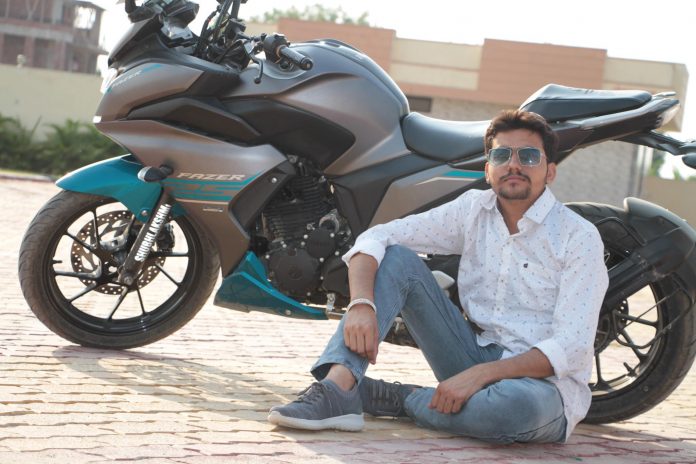 Sachin Chahar is the founder of the digital marketing agency Sccompusoft. He is a digital marketing and social media expert, Web Developer, Celebrity Manager, entrepreneur, and Business consultant. Sachin has done his Bachelor of Computer Application (BCA) from CIITM University. He started his digital marketing journey when he was just 16 as a Social Media Manager. Inspiring Interview with Sachin Chahar – Founder of Sccompusoft.
Sachin Chahar, an internet geek from Sikar, has a way with technology. Achieving so much at a young age is a flex. He was born in 1997 at Neem ka thana, a town in Sikar (Rajasthan). He has expertise in computer software and mobile app development. Sachin Chahar Sccompusoft believes in building his empire by giving most of his time to computers. Being an experienced programmer he also possesses good knowledge of how to integrate modern technologies and other technical stuff to make good software. He quotes that turning your passion into a career is one heck of a journey as it takes all your time and you won't even regret giving it so. He also believes in karma and says that it is the best teacher as what you do comes back to you. 
Sachin Chahar Personal Information
Full Birth Name
Sachin Chahar
Nick name
Sachin
Age
23
Hometown
Sikar, Rajasthan
Current Residence
Sikar, Rajasthan
Nationality
Indian
Famous For
1. Founder of Sccompusoft.
2. Web Developer.
3. Marketing Skills.
Marital Status
Single
Highest Qualification
Graduation
School/ College
CIITM University
Hobbies
Traveling, Swimming 
Dream Holiday Destination
Dubai 
Favorite Color
Black
Favorite Celebrity
Akshay Kumar
Facebook
Profile Link
Sachin Chahar Interview
Digital Guruji : Tell us a bit about yourself. Where are you from and where did you grow up? 
Sachin Chahar : Hello, My name is Sachin Chahar, I am the founder of Sccompusoft. I was born and bought up in Sikar, Rajasthan.
Digital Guruji : What does Sccompusoft do?
Sachin Chahar : We at Sccompusoft give various digital services to our clients including Web Development, Social Media Marketing, Search Engine Optimization, Graphic Designing, and content writing.
SCCompuSoft is a consulting and IT development company. Despite the techie language we sometimes use, we do understand that technology is just a tool. The critical portion of what we do is work to understand your business goals, problems or opportunities, and design the right solutions for you. This may include technology, but it may also include process or communication change.
Our aim is to constantly deliver the best performance by using leading-edge technology, high-quality research, and world-class quality processes. Our marketing department is experts in the field of accelerations. They adopt a get the order that is highly necessary to each company's needs and adopts a systematic approach, along with adaptable processes, SCCompuSoft creates sustainable value to survive.
Digital Guruji : Tell us something about your education & family background.
Sachin Chahar : I have done Bachelor of Computer Application (BCA) from CIITM University. I belong to a middle-class family but my dad did everything for us and we are very happy to live a normal life. I have not received any family and friends support as the Internet was a dark side for my family and friends.
---
Also Read:
---
Digital Guruji :  What is the quality policy of Sccompusoft.
Sachin Chahar : Well we facilities the offline connections as well which other players lack and also giving everybody an opportunity to build interest-based connections.
Our primary responsibility is to deliver maximum value to our customers worldwide. In pursuance of this effort, with our dedicated teamwork, we commit ourselves to take the leadership both in the development and technology of IT solutions. To adhere in letter and spirit to the technical requirements and laid down systems which are essential for our products to be consistently the first choice of our customers through inbuilt quality and on-schedule delivery.
Digital Guruji :  What were the challenges that you faced initially?
Sachin Chahar : Challenges are part of every Entrepreneurial Journey. Yes, We faced a lot of hardships and struggle in the initial phase.
Digital Guruji :  Did you raise funding for your venture? If yes, then please tell us how you got that.
Sachin Chahar : No, we haven't raised any funds yet.
---
Also Read:
---
Digital Guruji :  How do you market your business, and which tactics have been most successful?
Sachin Chahar : Right now we are marketing peer to peer. We have seen technology evolving, starting from a black and white cinema to today making it available even on our phones. Social media platforms are connecting people from across the globe which proves where technology has got us today.
Digital Guruji :  How do you define success?
Sachin Chahar : When people from our platform able to learn new things, can build meaningful connections. A culture of knowledge sharing is when developing then we will think that we have done something.
Digital Guruji :  Do you believe there is some sort of pattern or formula to becoming a successful entrepreneur?
Sachin Chahar : Purely Passion and Perseverance.
Digital Guruji :  What advice would you like to give our young readers?
Sachin Chahar : Do what you really want to do. You have the best time to learn something and change your life completely.
Here Ends Inspiring Interview with Sachin Chahar – Founder of Sccompusoft.