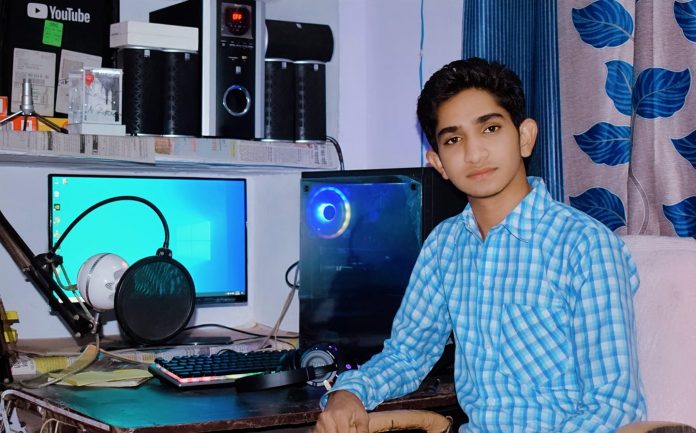 Sahabaj Khan is a 19-year old college going student from the Alwar district of Rajasthan. He is a well known Youtuber, Tutor, his educational videos are praised for their quality contents. Sahabaj's youtube channel has more than 500K subscribers. Interview with Digital Entrepreneur & Youtuber Sahabaj Khan Alwar.
Sahabaj Khan Alwar Personal Information
Full Birth Name
Sahabaj Khan
Nick name
Saanu
Date of Birth (DOB), Birthday
Oct 2, 2001
Hometown
Maujpur, Alwar
Current Residence
Maujpur, Alwar
Nationality
Indian
Famous For
1. Founder of Sahabaj Khan.
2. Youtuber.
3. Digital Entrepreneur.
Marital Status
Unmarried
Highest Qualification
B.A.
School/ College
Shree Matshya Barodmeo
Hobbies
Learning, Teaching
Dream Holiday Destination
USA
Best Friend
Rashid

Youtuber Sahabaj Khan Alwar Interview
Digital Guruji : Tell us a bit about yourself. Where are you from and where did you grow up?
Sahabaj khan Alwar : My Name Is Sahabaj khan, I am a resident of village Maujpur, Alwar, Rajasthan. The beginning of my life and my early education started in my village, Right now I am 19 years old. I am A YouTuber and my YouTube channel has over four lakh subscribers.
We make videos related to  "motor winding,  motor repairing, Inverter, AC, Electrical Projects, electrical circuit " & Etc. on our YouTube channel, My electrician guru is my father, I learned this work from him only. My current time studying is B.A. The final year is underway.
Digital Guruji : How did this all begin? What started your Entrepreneurial journey?
Sahabaj khan Alwar : I started YouTube on 20 May 2017 and uploaded my first video on 20 May 2017, I named my channel Sahabaj Khan. The beginning of YouTube was something like this. My friends who wanted to learn electrician, I made videos for them only, but those videos proved to be beneficial for many more people, after this I got a lot of love Of all people and I started continuously videos Uploading on YouTube. 
Digital Guruji : Share your youtube journey.
Sahabaj khan Alwar : I named my YouTube channel after my own name Sahabaj Khan. Crores of people watch videos of our YouTube channel Sahabaj Khan and learn in millions, Today, out of millions of learned people, there are thousands of people who have learned the work of electricians from our videos and today opened their workshops and are earning a lot of money and are a successful electrician, All these people are like my students who learn from me and make videos to help them according to their comments.
Digital Guruji : How did the idea of creating a YouTube channel came?
Sahabaj khan Alwar : My initial objective was only to teach people to work through YouTube, Do not know how many unemployed people are looking for employment, there are many people,  they keep their interest in electrical work but if they want to learn, no one teaches or they are given wrong information, in such a way, I have Thought to help everyone and I was able to help them all through youtube.
Digital Guruji : What were the challenges that you faced initially when you started making videos for youtube channel and how did you overcome it?
Sahabaj khan Alwar : There were many problems in the beginning but my family members were fully supported. I was fully aware of my work as an electric electrician, but how do I upload videos to YouTube? How do I shoot a video before uploading a video to YouTube? I don't know all of these, which is what I almost learned on YouTube. – If anyone knew anything, nobody helped, nobody told about him, In the initial troubles, I neither had a good mobile phone nor did I have a tripod to shoot the video. 
But say if we work hard then no work is difficult. When I started YouTube, I had no computer laptop, only I started YouTube from my mobile phone, used to make videos and edit and upload with the help of mobile. As I told you that I am a resident of a village when I used to make videos, I used to hear the kind of comments from people, which also gave me a lot of disappointment, but the loving comments under the videos gave me great encouragement. 
---
Also Read:
---
Digital Guruji : Does your work have a social motive behind it?
Sahabaj khan Alwar : I do not associate this work with any social purpose. My only aim is that I can teach the work to as many people as possible so that they do not remain unemployed and become a successful person. If I succeed in this purpose, then the benefits of society are included in it as a whole.
My goal is that I can teach work to as many people as possible and help to overcome unemployment.
Digital Guruji : Tell us about the people who impacted your journey.
Sahabaj khan Alwar : During my journey, where I was also disappointed, my family and my friends supported me, But going away from trouble is not their solution, rather we should understand them and overcome them.
Digital Guruji : What is your most significant success to date?
Sahabaj khan Alwar : To believe success in my words would be this, you may also define success as short-term wins, like reaching daily, weekly and monthly goals. Viewing success as a process can help you focus on the small accomplishments that lead to a major achievement, 
Like it is very difficult to climb a tall building but if it has stairs, then we can easily climb on it, similarly, we have to do small beginning tasks in doing something big in life.
I have been completely satisfied with all the achievements that I have achieved in my life so far but I want to achieve some more achievements in my life right now.
Digital Guruji : Your previous jobs/ventures?
Sahabaj khan Alwar : I am currently on YouTuber but I do all the work that I used to do before YouTube, I have not left any of my old work, my studies continue, with this I handle my electrician workshop and more. If I talk about my surroundings then my workshop is in the main market, I keep updated with all the trends from there, if I talk about the world, then I remain active on YouTube, from there I get all kinds of knowledge.
Digital Guruji : Tell us something about your education & family background.
Sahabaj khan Alwar : I did my elementary education from class 1 to 12 in my village, & I am a student of arts subject, On September 7, 2018, I joined my first college in Main City, Alwar, Rajasthan. My family has only 3 members.
---
Also Read:
---
Digital Guruji : How has been the support from friends and family?
Sahabaj khan Alwar : As I mentioned earlier, my family and my friends were the most supportive in my life, they helped me with all kinds of problems and in every way, My friends are like my family. If I start my career again, I will start with video creator or digital marketing which will be very popular in the coming time.
Digital Guruji : Whose work has influenced you most? 
Sahabaj khan Alwar : I get the most inspiration from my father's work because I learned this work from him, My dad always says
"An electrician can never get complete knowledge in his life

Because of this, we should never boast about our knowledge"
Digital Guruji : What advice would you like to give our young readers?
Sahabaj khan Alwar : For the youth, I would like to say that we should devote full attention to the achievement of our achievement because we can do the part-time work for which we are engaged later if we have achieved it from us. We won't need to work part-time.
Here Ends Interview with Digital Entrepreneur & Youtuber Sahabaj Khan Alwar. Subscribe to SAHABAJ KHAN Youtube channel for Latest Educational Video by Sahabaj Khan Alwar.