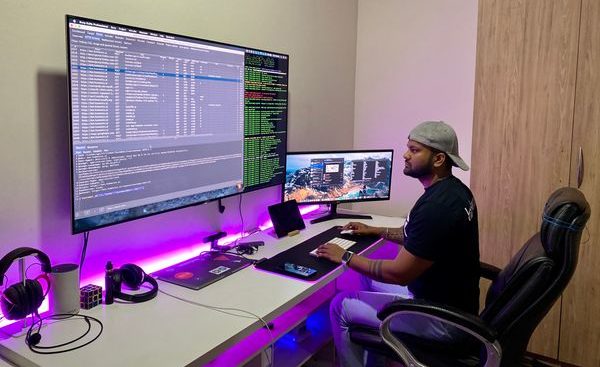 Over $25 million in bounties are being paid to ethical hackers across the world. As per the recent 2019 Hacker Report, over $3 million of that has been paid to hackers in India.
Such was the case for Shubham Gupta, a young Indian Ethical hacker of Delhi. Shubham ranks in the 96th percentile when it comes to signal and he has helped well-known brands like Ubiquiti Networks, Twitter, Slack, etc. We caught up with him to learn more about his journey, what drives him, and why he hacks for good.
Shubham Gupta Interview
Digital Guruji: Hi!! Will you please introduce yourself to our readers?
Shubham Gupta: Hi! I am Shubham Gupta residing in Delhi. Presently I am working in Deloitte as an Assistant Manager. I am a bug-bounty hunter. I am also a fitness freak and love gymming and cycling.
Digital Guruji: When did you start hacking?
Shubham Gupta: I started hacking for good when I was 16 years old.
Digital Guruji: How did you get interested in hacking?
Shubham Gupta: When I was around 14 years old I watched many movies like Hackers (1995), wargames, etc which made me interested in hacking. I have a lot of respect for all ethical hackers. My principles would never be clear if I did something unethical, so I stick to ethical hacking & earn money that way.
Digital Guruji: What have you done with the money you've earned through bug bounties?
Shubham Gupta: Oh many things! I bought new flats in various cities, a lot of household gadgets, and my routine day-to-day utilities all from the money through ethical hacking. Ethical Hacking has definitely changed my life for good. I come from a poor family. We didn't have much…at times, not even food. My mom didn't make much money, so it was difficult to make ends meet. When I got into ethical hacking and started getting some bucks, it changed my life greatly. Hacking even helped me get a professional job at Broctagon Fintech Group as a Security Analyst without a formal degree, which is very difficult for a child of my age.
Digital Guruji: What are your future plans?
Shubham Gupta: I foresee my future in computer applications particularly in cyber security/ IT security and always seek opportunities to uplift my skills in these areas. I want to pursue higher studies may be MBA or MS. I would love to travel the whole world.
Digital Guruji: What are your current projects that are on board?
Shubham Gupta: I have handled many national and international projects. Currently I am busy in banking project from Hong Kong.
---
Also Read:
---
Digital Guruji: How do you manage your time?
Shubham Gupta: I don't try to manage time. I love my profession and my work and I am giving all my time to it.
Digital Guruji: Any incidence which you can't forget all life?
Shubham Gupta: I can't forget God for sending Godfather (Dr. Mukesh Kumar Rana) in my life who encouraged, guided, and molded my career into a shape I am today. I remember my childhood days when I used to sleep empty-stomach. I cannot forget my long walks to college when my peers enjoyed conveyances.
Digital Guruji: Tell us about the people who impacted your journey.
Shubham Gupta: People revolving around your life are really very important as they shape your life. We can lose luster of life if we don't have a loved one to share our happiness or sorrows. The important thing is that we need to choose people to build our relationship with in a very focused way along the life of journey. I am lucky that there had been many people in my life who positively impacted my life.
Yes, there have been instances when I have people who literally drained me out of my energy, money and peace but I was capable of removing those viruses from my life. One of the mine success mantras is that love your work and then everything turns to help you.
Digital Guruji: What has been the proudest moment of your career?
Shubham Gupta: The proudest moment of my life was when I earned money myself and managed to travel abroad. I travelled out of a small town in Madhya Pradesh to Saudi Arabia first time fulfilling my long-cherished desire. Those moments of travel were really fulfilling, never to forget.
Digital Guruji: How do you define success?
Shubham Gupta: In today's world, people are always comparing each other's success but the goals you set for yourself can only be achieved through your own hard work and perseverance. Be proud of what you do so that no one can belittle your goals and dreams. The definition of success for me is when I meet my targets set for me by myself.
Digital Guruji: Tell us something about your education & family background.
Shubham Gupta: I did my schooling and graduation (BCA) from Gwalior. I have been above average student, not extraordinary but really hard-working. I spent little time on studies but whatever time I used to spend I gave my full and could pass examinations easily. I did not believe in rot learning.
I approach had been always practical-oriented and, I think, that was the reason for my success as well. My family had never been supportive for my education or you can say that they were not in a condition to bear the burden of my education.
Digital Guruji: How has been the support from friends and family?
Shubham Gupta: As I mentioned earlier, there had been no family support for me. I am totally self-made person. I did whatever, I decided. It was grace of God that I encountered good people in the journey of my life which made me what I am today.
My father is not with us and my mother doesn't know ABC of computers what to talk about cybersecurity. When I started earning through hacking, many of my family members started complaining if I was earning through unethical means.
---
Also Read:
---
Digital Guruji: Any Special Achievements you want to share with us?
Shubham Gupta: As such, there is nothing special. But, yes, I want to complete a lot of certification programs in the area of hacking such as OSWP, OSWE, etc. Thoughts run in my mind to do an MBA or MS also. Let's see how it goes!
Digital Guruji: What's your weakness?
Shubham Gupta: I can't say NO to help my colleague at my workplace or my friends. I need to learn it!
Digital Guruji: Do you have any girlfriend, what does she do?
Shubham Gupta: I wish I could have one! I didn't have time to think on those lines. But I feel I would have been off-target and would have diverted my energy and time if I had one. I may be wrong!
Digital Guruji: If you had a magic stick, which are the two things you would change in the world?
Shubham Gupta: Parental-affection to their children would be the first thing I would love to ensure that every child on the planet gets. Secondly, I wish no child should go to sleep empty-stomach. I long to get that magic stick as soon as possible!
Digital Guruji: Any regrets till now? If yes, will you like to share it with our readers?
Shubham Gupta: No regrets as on today and I don't think in future also there would be any. Let's see what life teaches ahead.
Digital Guruji: If not the current profession, what would you have been?
Shubham Gupta: Sorry, I can't imagine that.
Digital Guruji: Can you describe/outline your typical day?
Shubham Gupta: It's difficult to outline in a systematic way but since I work mostly during the night my days are mostly cool, resting, and relaxing. But that is not always true as well.
Digital Guruji: What do you do when you're not hacking?
Shubham Gupta: Hacking is a devotion to me. When I am not hacking, I utilize my time in the gym, reading, traveling, or watching movies. Even during those hours, my mind also thinks about hacking.
Digital Guruji: If you were given a choice of meeting any person you want, who will be that person?
Shubham Gupta: I am yet to decide on that.
Digital Guruji: What is the biggest misconception that you think people have about you?
Shubham Gupta: People think that I am an arrogant and hard-hearted person. But its quite the opposite of that as I am very soft-hearted which I usually do not express.
---
Also Read:
---
Digital Guruji: What are your ideals / Principals?
Shubham Gupta: Don't hurt anyone. Be sincere and faithful to your loved ones.
Digital Guruji: What is your greatest fear, and how do you manage fear?
Shubham Gupta: My greatest fear is "What next in my life?". Although whatever comes my way, I take it positively. By thinking that this is universal for everyone, so I cool down and manage it.
Digital Guruji: What advice would you give other hackers just starting out?
Shubham Gupta: I would advise youngsters that bug-bounty is an emerging area and there is a bright future in it. Parents are advised to encourage their children to pursue the career of their choice.
I would just say use Google and your brain. Try to learn some new every day by raising questions yourself like How? Why? What?
Always recall, change is the rule of life. Ups and downs are constrained to happen, but try to always be focused. Have patience and dedication. Read bug-hunters' blogs, socialize on Twitter, Facebook, Slack, etc., to meet new people, and learn from your peers. That can be really useful.
Important: Know a great startup story or want to share your own? Write to us at [email protected] and we will get back to you. For more updates follow Digital Guruji on Facebook.