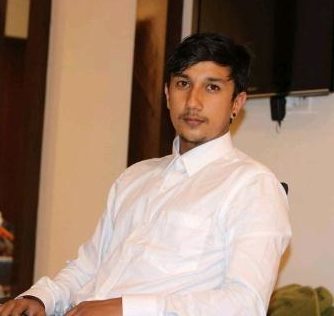 Youngest cyber security expert of Uttrakhand – Vikas Singh Bisht
Vikas Singh Bisht, a teacher and cyber security expert by profession, the Youngest Cyber Security Expert of Uttarakhand. Interview with Vikas Singh Bisht.
While surfing on the Google Search Engine, Vikas Singh Bisht detected a serious mistake which may lead to the loss of database of miilions of people across the world. His team was placed on 322nd rank on Hall of Fame under the Vulnerability Reward Program. He also get $100 as a reward. Now-a-days Vikas Bisht works at a cyber-defence alliance company in Dehradun which provides cyber security to many bigger companies in the world.
Recently Vikas Bisht detected a hijacking bug in the domain of Microsoft for which he was praised and awarded a prize of 2.21 lac Rs. Vikas Bisht, has made India proud and inspired the young generation including Digital Guruji to follow their dreams and do something big. Everyone should keep on trying until they achieve something big.
Success is not luck; it is hardwork. Vikas Bisht has become a living example of hard work leading to success. The young generation should keep faith in themselves and give their best. Just like Vikas singh, people should give their best in the field they are working in.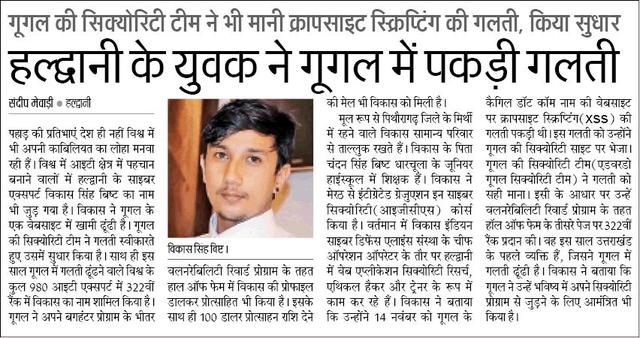 Interview with Vikas Singh Bisht
Digital Guruji : Vikas Bisht, what quality makes you different from other person?
Vikas Singh Bisht : Well thanks for this question which made Me stop and think. Really what makes us different?

 My consciousness makes me do things differently.

 I am a strict vegetarian (even no eggs).
 I sleep just for almost 4–5 hours on a daily basis ).
 I do mantra meditation for around an hour everyday.
 Also i hates selfies.
Digital Guruji : How did get the idea of finding bugs?
Vikas Singh Bisht : At 2016 i saw a post on facebook which posted by one of my friend he was doing hacking and all .They get around 500$ at once so i started learning day by day I enhanced my skills.
---
Also Read:
---
Digital Guruji : What are your future plans?
Vikas Singh Bisht : I don't have a very rigid plan for my future. All though, I have some things, here and there, in mind that I want to do in the next 5 years or so.
I want to, first of all, earn a degree in Masters (MS In Cyber Security ).

I want to work with country base NGO'S ( recently i'm working with 2 State bases NGOS at uttarakhand ).
I want to open My own School for poor poor guys.
I wish to give a TED talk at some point in my life.
Making enough money to eventually get a house. Maybe married? Definitely travelling when I can.
Digital Guruji:

We would like you to share your success mantra with our readers.
Vikas Singh Bisht : DON'T  WISH FOR IT WORK FOR IT ( work Hard believe in God ) karma is a real fact.

Digital Guruji:
 what's your daily routine? 
Vikas Singh Bisht : 
7 a.m.—9 a.m.: Get up, eat breakfast
10 a.m.: This is when I usually start working
10 a.m.—1p.m.: Work on my two daily tasks and any work that requires significant energy and attention
2 p.m.—4 p.m.: Work on less important tasks that I can't  decline.
4 p.m.—5 p.m.: Check my email, and completely empty my inboxes.
6 p.m.—7 p.m GYM or running
8p.m.—9 p.m Dinner or  spend quality time with My family
9p.m.—11p.m  Personal time. I usually spend this time on my social media.
Digital Guruji:

How do you manage your personal life, work

? 
Vikas Singh Bisht : I just need to manage times for my friends and family but really you don't need to worry about managing times if you doing full time, you are your own boss.
Digital Guruji: 
When and how did you have your breakthrough? When did you realize hacking was something you wanted to dedicate your time to ?
Vikas Singh Bisht : I started hacking just as an optional carrier option for safe side, but when i actually got into hacking it was curiously/interest to know everything, how it happens , how i can do it and etc, after having some experience in web application security I released that we can even earn also by seating home, so what else anyone want.
Digital Guruji:

What do you do to keep up with all the new trends?
Vikas Singh Bisht : Twitter, T4S
Digital Guruji:

What do you do when you aren't hacking?
Vikas Singh Bisht : Playing computer games, hanging out with friends.
Digital Guruji:

What kind of impact/role have ETHICAL HACKING  played in your life?
Vikas Singh Bisht : I will say complete life changing, it's my primary source of income with the work i love to do most will complete freedom.
Digital Guruji:

What is one area of hacking (web, mobile, hardware, etc) you wish you knew more about / plan on focusing your learning on?
Vikas Singh Bisht : IOT
Digital Guruji:

If someone with basic technical background asked you, "where should I start?", what are The things you would recommend they do before diving into CYBER SECURITY

?
Vikas Singh Bisht :
Follow writeup blogs,  hacktivity page, web hacking bogs.

Engage with community, share/understand how things works.

Respect other hackers and program's policy.
Digital Guruji:

What is an advice you received as a beginner that helped you with your ethical hacking career

?
Vikas Singh Bisht : In a early days of information  security in my initial failures but after some times I improve my skills and work on my negative facts so just learn day by day.
Digital Guruji:

What's your thought about digital guruji's work?
Vikas Singh Bisht : Digital Guruji is one of the best growing digital platform with since last year they cover almost all phases of achievers.
Let us hope that Mr. Vikas singh Bisht works gets followed by the millions of youth and the cyber security industry booms.
Also Visit Beblogger.in For Interesting Articles related to Blogging beblogger
Enrich yourself with Digital Marketing Tips & Tricks by Digitmod