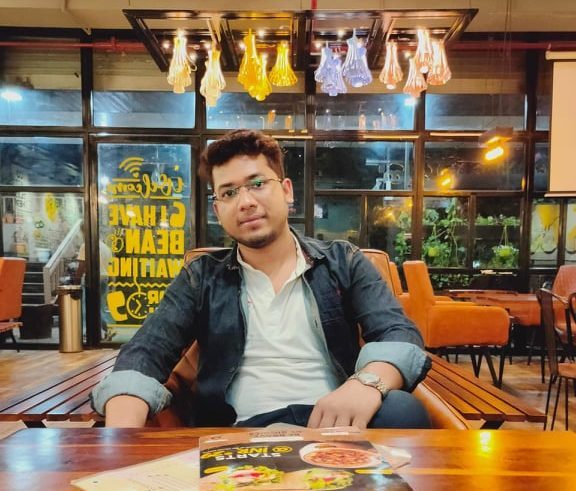 Prabhat Kumar Chand is a 22-years-old Android and Full-stack web developer hailing from Madhubani, Bihar. He has completed his Graduation from KIIT University, Bhubaneswar. Apart from Blogging, Programming, Digital Marketing, and SEO, he is too expertise in Machine Learning, Artificial Intelligence (AI), Neural Network and web Scraping. Interview with Youngest Blogger Prabhat Kumar Chand, Founder of Seebio.
Prabhat Kumar Chand Personal Information
Full Birth Name
Prabhat Kumar Chand
Nick name
Prabhu
Age
22
Hometown
Madhubani, Bihar
Current Residence
Bhubaneswar, Odisha
Nationality
Indian
Famous For
1. Young Entrepreneur.
2. Web Developer.
3. Blogger.
Marital Status
Single
Star Sign (Zodiac Sign)
Virgo
Highest Qualification
Graduation
School/ College
KIIT University Bhubaneswar
Hobbies
Coding, Blogging, Music
Dream Holiday Destination
Fiji
Favorite Color
Black
Favorite Food
Litti Chokha
Best Friend
Nidhi Raj
Prabhat Kumar Chand Interview
Digital Guruji : Tell us a bit about yourself. Where are you from and where did you grow up?
Prabhat Kumar Chand : Hey I'm Prabhat Kumar Chand ( Android & Full-Stack Web Developer, Blogger) but everyone knows me from the Name of Prabhat Chand, belonging to a small village of Phulparas, District Madhubani of Bihar. Currently, I am a Computer Science 3rd Year Student Pursuing B.tech from One of the Top University KIIT University Bhubaneswar Odisha.
Apart from this Blogging, coding, Programming, Digital Marketing, and SEO, I have knowledge about Machine Learning, Artificial Intelligence (AI), Neural Network, web Scraping and Completed many types of Project Based on ML and AI and also designed Various type of algorithms for SAAS and for Automation System.
I'm doing freelancing on the top website and author of many HTML templates, Full Android App which is live on Envato ( A big Marketplace for Purchasing Code, software, App, etc) As Well as on Google Play Store.
As a Blogger, I love to write blogs on various topics like Technology, Coding, Programming, Blogging, Affiliate Marketing, Computer issues that me publishing on my Portfolio cum Blog PrabhatChand.Com. I have also permission to write directly on Google through (Google Question Hub) there also be helping many people who not able to find the answer to their questions on Google.
I'm not a full-time Blogger, Programmer due to my academics and all but for now, I'm working on my self dream project which will launch soon because I love to explore technology in this amazing CODING World. Because here everything is possible By Coding only IDEA MATTER A LOTS.
Founder of Seebio – Prabhat Kumar Chand
Digital Guruji : How did this all begin? What started your Entrepreneurial journey?
Prabhat Kumar Chand : As I did my class 10th & 12th from State Board (BSEB) I was not knowing about Programming, Coding, Digital Marketing but I was having Passion always to Develop an App or Website as Hobby Project. You will not believe that when I was in class 8th I purchased a mobile from dad Money by telling me I have to purchase a course in English. just for using the internet while the 2G network was there. And in village net issue was too much so just for suffering net I was going outside of the home and forgetting to eat also. And when google was appearing I was getting so happy (HAHAHA) Yeah, It's quite funny.
After 12th I focused more on Blogging always searching how to make money online and I get to know that you can make a simple website using WordPress CMS and write a blog about what you have knowledge. Then I did the same things did SEO and ranked many websites and I got my first payment from Google Adsense after 6 months in between my AdSense suspended also one time for 30 days. and it was 106$. But now it's 106$ my Blog giving in One Day from there my Journey started in this Awesome digital World.
---
Also Read:
---
Digital Guruji : What is the Main Source of Your Income?
Prabhat Kumar Chand : I am having many sources of income from where me generating a good amount of revenue but the main source of income is like from Blogging, SEO Service, Android App Development, Web Development, Custom Software that I providing to my clients. And I also working on my one Project there I will teach all those things that entrepreneurs, students should have like Programming, custom software Development, Coding, Blogging, SEO including Graphics and UX/UI.  
Digital Guruji : May I know, currently on which type of project you working?
Prabhat Kumar Chand : Yeah, Currently I am working on Education type Projects for my Self based On Artificial intelligence (AI) and Machine Learning (ML) that will be very helpful for students in every aspect. It doesn't matter from which educational background students are. They can learn everything there with the help of my Artificial Intelligence, Currently, we are giving training to it. It will be helpful for Engineering Students who want to learn Coding Programming including IIT, Jee Mains, Board Exam Aspirants also.
Digital Guruji : What were the challenges that you faced initially becoming a good Programmer, Blogger and how did you overcome it?
Prabhat Kumar Chand : Quite a good Question, yeah I faced many types of initial challenges and difficulties and it's a general type of problem that everyone getting issues and Difficulties, but if someone not getting then maybe he doing general work HAHAHA.
As I did my Education till Intermediate in my Village Town and I never learned a Word 'P' About Programing. But I studied many blogs and books that helped me a lot in My Programming, Coding World. Now everything is available on google that if anyone wants to learn anything they can get easily answer on Google.
Digital Guruji : Tell us about the people who impacted your journey.
Prabhat Kumar Chand : Yeah there are Many People behind me to achieve my dream and still more dream is on the way to be completed. Firstly thanks to my father to support me and my all respected teachers, and my Best Friend Nidhi Raj, My Seniors Deepak Mandal to help me at every step of my life.
Digital Guruji : How do you define success?
Prabhat Kumar Chand : See in my word if you telling me to define success then it's your real happiness that you getting by doing your work that is a success. Take small-mall work and do this on time, and that small piece of work which you doing daily will be converted into a big success.
And yeah, I'm quite satisfied with my achievement and much more success and achievement I want in my life and for this, I am working on it day and night.
Digital Guruji : What are your biggest achievements and falls in your journey?
Prabhat Kumar Chand : Biggest achievements is that at the age of 13 what I saw a dream to become a Developer, good Programmer, and independent Person. That I achieved it so this I can say, it's my achievements.
---
Also Read:
---
Digital Guruji : Tell us something about your education?
Prabhat Kumar Chand : I did my 10th and 12th from my village school and college respectively, currently I am pursuing B.tech from one of the top premiere University KIIT University Bhubaneswar Odisha in Computer Science and Engineering.
Digital Guruji : What is the best way to learn Programming and Digital Marketing?
Prabhat Kumar Chand : From my experience, Youtube is best from there you can learn whatever you want. So my best method is first to learn from youtube then apply it and see what goes wrong, why you not getting the expected results. If the concept is not clear then you can buy a course from Udemy. No need to invest a very large amount in buying a course.
If me telling you about my self I never purchased any SEO, Programming, Digital Marketing Course.
Digital Guruji : What inspires you?
Prabhat Kumar Chand : When we were kids, we often took our teachers to be our worst enemies. But what we didn't realize is that they were not doing us a favor. They were passionate about spreading their knowledge and helping us follow our dreams. So what you getting in your life be happy in that and try to do your best in the next attempts.
Digital Guruji : How do you stay updated on the latest trends in the Market?
Prabhat Kumar Chand : As all, we knowing that we living in a Digital World, and everyone having a good smartphone. So by reading news on a smartphone from a top news websites and by using social media.
Digital Guruji : What next? What are your future goals?
Prabhat Kumar Chand : Want to work on such type of AI and ML-based Projects which will help students to achieve their goal, show their creativity and talent with the world.
Digital Guruji : What advice would you like to give our young readers?
Prabhat Kumar Chand : Time is precious don't spoil it with useless things, use it in a good way to develop skill, or think about your goal that you want to achieve in your life. Just make a plan and start working on it from today only. Because we all knew the word "Tomorrow" Never will come.
Here Ends Interview with Youngest Blogger Prabhat Kumar Chand, Founder of Seebio.